Toy Time: Good Old-Fashioned Fun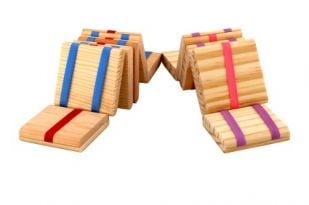 Want to see what kinds of toys your ancestors enjoyed playing with? Currently, The Charlotte Museum of History is featuring "Toy Time," an interactive exhibit of giant-sized folk toys through March 9. In the exhibit, visitors can "play" with large-scale handcrafted wood versions of the most popular kinetic folk toys throughout history.
Sixteen interactive toy stations explore the history, mechanics and fun of the Whimmy Diddle, Jacob's Ladder, Twirling Acrobat, Tightrope Walker, Pecking Chickens, Lunging Lumberjacks and other tumbling, flipping and climbing toys. "Toy Time" is the brainchild of Tom Wilson, director of exhibits at SciWorks Science Center and Environmental Park in Winston-Salem. A craftsman and former furniture maker, Wilson began making folk toys 30 years ago, making them for his children and giving them away to friends. The large-scale toys took six months to construct, presenting interesting challenges along the way to make toys that could be operated at that size.
"Toy Time gives our Museum the unique opportunity to teach children of all ages about the past through physical interaction," says Mary Davis Smart, president and CEO of The Charlotte Museum of History. "The larger than life toys require thinking, strength and teamwork to operate and besides making a lot of noise, they are fun."
The museum is also presenting an exhibit of historic toys dating from the 1870s to the 1980s in conjunction with "Toy Time." The toys are part of the museum's growing collection of over 13,000 artifacts and archival items.
"Coupled with our interpretation of artifacts from the museum's collection of toys, visitors leave with a refreshing attitude about what kind of play has transcended all time," says Smart. "It is the toy that the older visitor remembers vividly and the younger one thinks and then asks, 'How does that work?' Watching a family 'play' through the exhibit is reward enough for anyone."
For information on The Charlotte Museum of History's hours of operation and admission fees, visit their Web site at www.charlottemuseum.org or call 704-568-1774.
Renee Roberson is a Charlotte-area freelance writer and blogger.