Tour Birdwell Island with Clifford the Big Red Dog this Summer at ImaginOn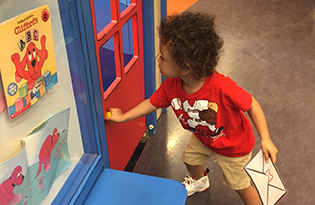 If you grew up loving the over-excited and lovable gigantic red dog and now have a child who loves him too, head over to the Adventures of Clifford the Big Red Dog exhibit at ImaginOn in uptown Charlotte. The creative, interactive exhibit is filled with a life-size experience of Birdwell Island, and the many friends that accompany the story of Clifford and his family.
Start the exhibit on a make-believe ferry ride onto the shores of Birdwell Island. Need to get to Emily and Clifford's house? Pick up a life-vest and use the interactive light-up display map to make your way there.ᅠ Afterwards, walk up to Emily's house and help water the plants and/or garden the weeds. Just outside of their house and past the lighthouse, Clifford is waiting for you to play. Slide down his tail and make your way to the sandbox at the beach and dive into a puzzle game with T-bone. The kids can explore the different shapes and sizes of seashells, and life-size sand castle pieces that connect with each other.
My 2-year-old nephew's favorite part was Samuel's restaurant where children can take orders from their guests and make a scrumptious pretend meal. The interactive register with bold numbers to punch in comes with pretend money for making change for customers' orders.
Inside Emily's living room are many Clifford stories to read, and details about the artist Norman Birdwell. Birdwell takes you back to his very first illustration and explains how he let his imagination soar into what we now know as the Clifford stories.
Venture off to Clifford's doghouse to write a letter to one of the residents on the island and drop off the letter at any of the mailboxes outside of each play area. Guests also can perform a short musical piece at Mac's Backyard Theater playing drums while pushing a red, green or blue button for a mix of different tunes.
The exhibit, suitable for ages 2-7, is free and open through Sept. 5 during library hours. On Saturday mornings, families with small children are encouraged to come between the hours of 10 a.m. and noon. Visit imaginon.org for more information.