Top 5 Trends for Fall Style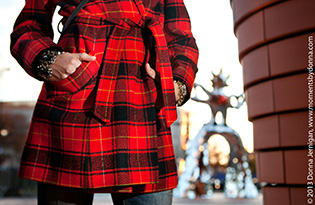 Autumn is in the air, and who doesn't love fall in the South? Crisp cool days, football and killer fashions create excitement during a new season. Here are five top fall trends to work into your wardrobe.
Turtlenecks. Yes, I'm serious. My personal favorite is a simple fitted version with a hint of Spandex to hug your torso. From the traditional cotton or a grandpa-inspired knit wool, the turtleneck looks chic and keeps you cozy, all while creating a slimming effect.
Leather (or vegan leather). This year try the luxe material in a deep blue or rich burgundy/oxblood. The latter has been hot for the past few seasons, but royal is on the rise, and black is always hot choice.
Steven – Jaane in Cognac, $110, available on zappos.com
Short boots. I tend to reach for more traditional garments that will transcend time, but this is one trend I couldn't resist for fall. I recently picked up the most fun pair of silver-studded brown suede booties, and I'm most excited to pair them with all things boho, including a little black long-sleeved lace dress.
High-impact details. Jeweled, feathered and appliquéd shapes. You can spend a little or a lot. Bring on the accessories. Put finishing touches on outfits with a few or pile 'em on.
Mad for plaid. This is one trend whose revival I never tire of seeing. Pair your traditionally preppy tartans and checks with everything from circle skirts and pumps for the office, to leather or denim with boots for a night out.
Beauty Trends
When it comes to autumnal makeup, dark, raisin-toned lips are here to stay, but this year, be on the lookout for unexpected bold greens and unabashedly bright blues. As for hair, slicked back ponytails and intricate braids make things easy for any mom on the move.
Read more from Whitley Adkins Hamlin in her blog, Mother of Style.