Top 10 Valentine's Day Children's Books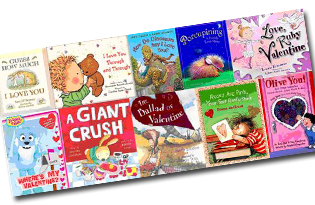 As kids, Valentine's Day was all about sending out the funniest cards to your best friends or maybe receiving a carnation from a secret admirer, but this friendship-filled holiday can easily be turned into a celebration of reading for the younger set.
"Valentine's Day and reading might not be an obvious connection, but tailoring a child's reading to the big events that are already occurring in their lives is one of most effective and fun ways to increase their enthusiasm about literacy," said Erin Jackman, Director of the Brooke Jackman Foundation.  "For Valentine's Day, tap into children's eagerness to swap heart-shaped cards with their classmates by introducing them to a book based on the holiday."
The Brooke Jackman Foundation is a non-profit organization that promotes literacy for at-risk children in the greater New York area.  Since its inception in 2001, it has donated over 100,000 books to the children through the Foundation and has established four libraries throughout the city, as well as numerous after-school and family literacy programs.
Just what are some of the best books to get children clamoring to read on this amorous holiday?  Spanning from the silly to the sentimental, below are the Top 10 Valentine's Day Children Books selected by the Brooke Jackman Foundation:
1. Guess How Much I love You
by Sam McBratney
2. I Love You Through and Through
by Bernadette Rossetti Shustak
3. How Do Dinosaurs Say I Love You?
by Jane Yolen
4. Porcupining A Prickly Love Story                                                       
by Lisa Wheeler
5. Love, Ruby Valentine                                                                         
by Laurie B Friedman
6. Where's My Valentine? (Yo Gabba Gabba! Series)                            
by Tina Gallo
7. A Giant Crush                                                                                     
by Gennifer Choldenko
8. The Ballad of Valentine                                                                      
by Alison Jackson
9. Roses are Pink, Your Feet Really Stink                                              
by Diane deGroat
10. Olive You!: And Other Valentine Knock-Knock Jokes You'll A-Door   
by Katy Hall and Lisa Eisenberg
The Brooke Jackman Foundation was created in 2001 to honor Brooke Jackman, a bright and compassionate 23-year-old avid reader who was killed in the 9/11 terrorist attacks before achieving her dream of becoming a social worker.  Brooke's passion and commitment to literacy and helping children spurred the Jackman family to create the Foundation as her living legacy – turning tragedy and despair into hope for a better world.  Since its inception, the Brooke Jackman Foundation has donated over 100,000 books and 15,000 backpacks filled with school supplies, or "Brooke Packs," to children and families in need.  In addition to the annual Read-a-thon, it has established four libraries, as well as a number of after school literacy programs at sites across all five boroughs, including homeless shelters and Family Justice Centers in Brooklyn, Queens and the Bronx, for victims of domestic violence and crime. The Foundation sponsors special events throughout the year to support its mission, including celebrity readings, the 5K Race for Literacy and an annual gala celebration. Please visit www.brookejackmanfoundation.org for more information.