Tissue Paper Flowers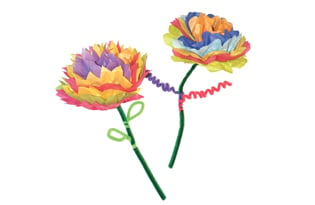 Supplies:
Colorful tissue paper
Pipe cleaners
Scissors
1. Cut your tissue paper into six 8-inch squares. Depending on what size flower you would like, you may alter the size larger or smaller. It's OK if squares aren't perfectly even.
2. Stack the tissue squares, mixing up the colors.
3. Begin with any one side of the tissue stack and fold in one inch of an edge. Continue folding, accordion style, until you have finished folding the square into a 1-inch strip.
4. Trim the ends of the strip. For rounded petals, trim to a half moon shape; for pointy petals, trim to a triangle shape.
5. Secure in the middle with a pipe cleaner and twist tightly.
6. Fan out the tissue paper, carefully pull apart each colorful layer and scrunch slightly until you have a tissue blossom.
7. Optional: You can use additional pipe cleaners to bend into leaf shapes and attach to a stem, or wrap a few snugly around a pencil for a spring effect that can be wired to the stems for a whimsical look.
8. Present a few tied together with ribbon or arranged in a small vase.
Top 5 Ways to Celebrate Mom
1. Write a note about how she inspires you.
2. Create a card from a treasured family photo using Shutterfly.com.
3. Help the kids plant her favorite flowers in her garden.
4. Give her a genuine compliment about how she looks.
5. Buy a locket and tuck a special photo inside.