Time to Roll With the Changes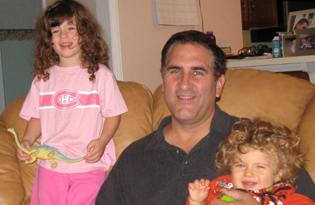 Change is something everybody goes through, but when dealing with two young children, change can be extra scary. Who am I kidding; it is frightening for adults as well.
The Snyder family is embarking on some big changes. I recently accepted a job as a sportscaster in another state. It is an exciting opportunity for me, but one full of changes. Besides saying good bye to all our friends, packing up and moving, besides my fabulous wife Charisse agreeing to leave her job and colleagues to look for a new position in a strange new town, and besides learning about new teams and new sports, my daughter Sage and son Brayden are going to new schools, and that might be the biggest adjustment of all.
In the short time Sage has gone to kindergarten in Charlotte, she has gotten used to exciting new routines and awesome new friends. Her amazing teachers have helped her learn lots of skills, from reading and writing, to life lessons, such as being a good person, and helping out others. Sage has played and gone to parties with her new pals, and I can easily visualize my daughter growing up with these children. Plus, Sage has become the biggest Panthers and Bobcats fan in the Queen City.
I keep letting her know she can root for her favorite teams, even if it is at a distance. At least Sage is old enough to understand the concept of moving. Brayden looks around and sees boxes and empty spaces where toys used to stand.
It makes him nervous. I am constantly assuring him that everything is OK. I am sure he will adjust to a new preschool. I hope he will adjust to a new climate and new routines. In the end, I just want what every parent wants: my family to be happy, healthy and settled. I am sure we will get there slowly, but surely.
So this is my last column for Charlotte Parent Magazine. I hope you enjoyed my musings, because it has been a blast doing this column. The Snyders will miss Charlotte, but will roll with the changes, be it in a game … or the game of life.
Bruce Snyder is a longtime sportscaster, and Charlottean on the move with his wife and two children.