Throwing Birthday Parties That Give Back
Start a new tradition with a charitable birthday bash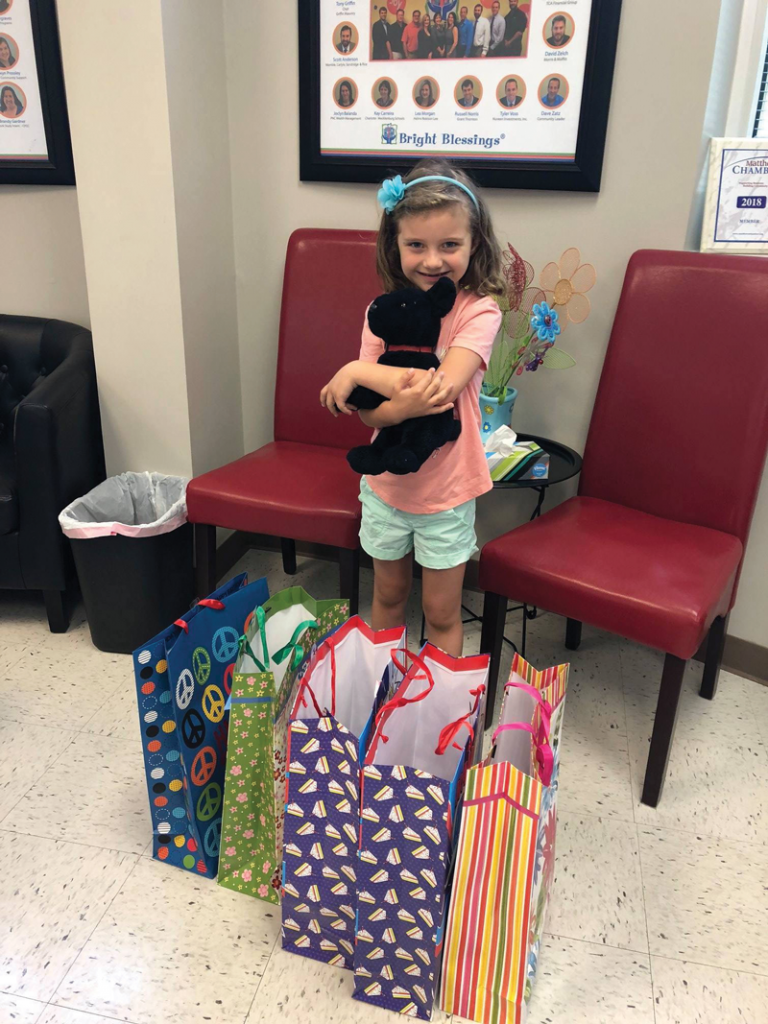 The anniversary of the birth of a child is a celebratory time. We gather friends and family to sing "Happy Birthday," eat cake and play games. Then the long-awaited moment arrives, the birthday boy or girl opens the pile of birthday presents. Some families in Charlotte, however, are swapping birthday presents for a new tradition — birthday parties that give back with a service component included in the celebration.
Melina DeLeon's invitation to her son's second birthday party asked parents to bring a new or used book in lieu of a gift. Guests took DeLeon's offer seriously and cleared their shelves. More than 100 books were donated to Promising Pages, a nonprofit organization that gives books to underserved children in Charlotte.
"It's very important that we give back to the community, in general," DeLeon, 34, says. "We want to instill that in our kids at a very young age. These types of birthday parties and volunteering will give them a sense of compassion for people."
Community Benefits
Organizations in Charlotte like Promising Pages benefit from these types of birthday celebrations. The Humane Society of Charlotte has been the recipient of fundraisers and supply drives. If they know a child is coming to drop off the donations, they try to make it a special experience with a photo, tour and a visit with a furry resident.
"They are kind and generous kids who are already thinking forward," Emily Cook, Humane Society of Charlotte marketing and communications director, says. "I can only imagine being that young and being aware of community needs."
The mission of Bright Blessings, a local nonprofit, is to help celebrate the birthdays of underserved students in the school system, and children and adults living in shelters. The organization supports the growing demand for birthday parties that encourage service and giving with Purpose Parties at its Matthews location. After an educational session about what they're doing and how it's important, the birthday child and guests put together kits with snacks, hygiene or baby items.
"It's great to see kids asking questions," Erin Clark, program manager, says. "As they absorb the information and work together on a project, you can see them internalize what it would be like if they were in the shoes of some of the children they're going to help."
The items for the kits are either provided by the birthday child's parents or the party guests. Donated kits are then delivered to the shelters and schools. From Your Location Projects may be done at home or anywhere else with guidance from Bright Blessings. The staff helps determine the best project based on the age of the child and what's most needed.
Noah Levy's first give-back birthday party was when he turned 4. His mom, Amy Levy, 38, suggested a few places to donate and explained the needs of each organization. They agreed on The Relatives, a nonprofit organization supporting children and youth. The agency needed athletic equipment and Noah's party was sports-themed. They collected footballs, soccer balls and games.
At his sixth birthday party, Noah wanted to make bags with toiletries and non-perishable items for homeless men. Levy attributes her son's decision to their family's involvement with the Men's Shelter of Charlotte. "It's something he cares about," she says. "We make sandwiches together and drop them off at the homeless shelter every few months. We've been doing that since he was young."
Planting the Seed for a Service Party
How do you get your gift-loving child to give up presents? Julie Sanniota, a licensed psychologist in private practice in south Charlotte, says the introduction of the idea and the child's readiness are key. She recommends families regularly volunteer so that their children learn from those experiences and develop a sense of pride about what they're doing to help the community.
"I think it's more beneficial to do it as a way of life," she says. "Look at the purpose of why you're doing it and what you're trying to achieve."
Giving can build self-esteem and character in children, she says, but advises parents to follow the child's lead. From a developmental standpoint, children under the age of 9 may not be ready to give up presents, especially if they've never participated in community service. She says to ask the child if they're interested in a give-back party and if they say no, then try again the following year.
Eighth-grader Bekah Shore has initiated several give-back birthday parties. Shore, 14, started when she was 7 because another friend did something similar. At her most recent birthday party, 15 girlfriends sang karaoke, decorated cookies and donated food, treats and toys to Carolina Boxer Rescue. She advises other kids to ask their parents first, but then go ahead and get started with their own give-back party.
"Get your kids involved," Shore recommends to parents. "Find things your kids are interested in and that way they're enjoying it. They won't feel forced into it."
5 Ideas to Party With Purpose
* Contact Peace Passers to set-up a soccer equipment drive.
* Use the Kids Can Give Too site to raise money for your child's favorite cause.
* Make kits for Bright Blessings programs.
* Find out what the Humane Society of Charlotte needs.
* Ask party guests to donate books for Promising Pages.
Vanessa Infanzon is a freelance writer who has wanted to write ever since reading Carolyn Keene's Nancy Drew series. She runs, reads and writes to keep her sense of humor and sanity while raising three boys.