Those Summer Days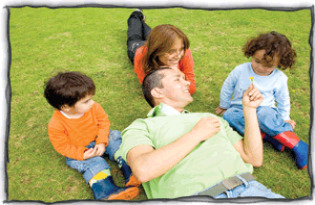 The hazy, hot days of summer soon will be upon us again with the promise of relaxed schedules and longer days stretching into later nights. Unfortunately, summer doesn't always play out the way some of us fondly remember from when we were young. With two parents working outside the home, children often are shuttled to a steady stream of camps leaving them too exhausted by nightfall to even contemplate roasting a marshmallow or catching fireflies … and leaving parents feeling summer is passing them by before they have a chance to enjoy it.
What's a parent to do? Here are some tips for making the most of your weekends with your kids and enjoying the lazy days of summer the old-fashioned way.
Revel in one thing together. Plan some Saturdays and Sundays going to one place at one time and staying there together for the day. Running from activity to activity like you do during the school year does little to soothe frazzled nerves or build family rapport.
Discover scenic spots. Our family of five discovered some local state parks about 15 years ago, and we have been loyal fans ever since. We even have gone so far as jokingly referring to them as "our summer cottage with no taxes and no mess!" Most parks have picnic areas, swimming, playgrounds and hiking trails. Many also have guided interpretive walks, nature centers or naturalist programs, fishing and boating — something for everyone!
Ban electronics. This may be easier said than done — and if they make the drive to your destination more bearable than allow them until you arrive — but once you arrive, leave all cell phones, Blackberries, iPods and handheld games in the car. This means Mom and Dad, too! Not only will you feel more relaxed without the constant noise and messages to respond to, but you'll actually be able to talk to one other without any interference or interruptions.
Pack a picnic. A summer Saturday is the perfect opportunity to introduce your children to your favorite childhood foods, such as deviled eggs, pickles, various salads, watermelon and s'mores. Whether you are at home or at the park, use your picnic time to teach the kids some new skills, including how to build a fire and grill burgers or corn on the cob. You also can teach a lesson in environmental protection with the concept of "carry in, carry out" trash and recycling that many state parks practice.
Let the kids choose. A day at the park can involve setting up "home base" by putting the basket of food and a cooler with drinks on the picnic table, spreading out lawn chairs or blankets to relax on and making sure that games are easily accessible. Bring along board games, cards, Frisbees and balls, and encourage everyone to do what they feel like doing when they feel like doing it. Let kids entertain themselves instead of relying on Mom and Dad to structure the day. Make it a real day off, and allow the kids make their own lunch and mediate their own disagreements whenever possible. Be sure to model a balanced, healthy lifestyle for your children, by hiking, swimming, reclining in a chair with a book or magazine and nibbling on fruits and vegetables (along with the chips and cookies!).
Take photos or videos. Let everyone to get behind the camera and capture the fun memories of your relaxing weekends. Recalling how much fun you had will help ease the tension when times get hectic once again. These memories also can be shared with grandparents and other older relatives, who might find it easier to talk with the kids about fishing and swimming than the latest Nintendo game.
Invite others to join in the fun. If you've really wanted to do some summer entertaining or throw a party, but have lacked the energy to cook and clean for guests, have a park get-together instead. Invite friends to join you and have everyone bring food to share for a potluck meal. This has the added benefit of allowing kids and adults with shared interests to form new bonds or stronger relationships with others.
You still might be inclined to think, "This is all very nice, but what will I have to give up or change to make it happen?" If so, consider making a decision this summer to clean less or go grocery shopping and do laundry after work during the week. Think back on your childhood summers and recall the memories of fun in the sun you cherish — don't your children deserve the same?
Remember, too, that teaching the kids how to relax and stop time for awhile will help them grow into healthier and happier adults.