Things Are Not What They Seem at Discovery Place's 'Illusions' Exhibit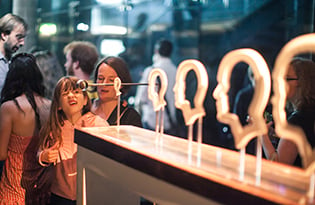 Messing with your mind is what the newest exhibit at Discovery Place intends to do. The only thing for certain about the exhibit "Illusion: Nothing Is As It Seems" is its name. Expect to hear a lot of "how'd they do that?" while exploring the 20-installation exhibit of optical, perceptual and audio illusions. Open Feb. 7 through May 10, it is a mix of magic, neuroscience, biology, physics and technology created to deceive the senses, and show that perception is not always reality.
There really aren't bugs crawling up your arm, but the optical illusions at Delicate Boundaries might have you jumping around shaking your sleeves. Bottle Magic will have you wondering how that deck of cards got inside the glass bottle. You can even get a haircut, or at least it will feel like you did at this mind-bending exhibit.
Curated by psychologist, author and magician Richard Wiseman; researched by deception artist Paul Gleeson, who is also the world's youngest professional escapologist; and created by Science Gallery at Trinity College Dublin, pioneers of the Global Science Gallery Network, each piece in the show is designed to play tricks on the mind, and subliminally stimulate a greater appreciation of how we view the world.
As an added bonus to the exhibit, Discovery Place has created a museum-wide scavenger hunt. Use your newfound knowledge of perception to find and identify macro images scattered throughout the museum. Find all of them to enter to win a Discovery Place prize package. On Saturday, March 21, celebrate the birthday of the great illusionist Harry Houdini at Happy Houdini Day. Young guests can participate in the Teeny Houdini showcase for young, amateur magicians.
The exhibit is recommended for ages 8 and older. Admission is $15 for adults, $12 for children and seniors, includes museum admission. discoveryplace.org.