The Value of Mommy + Me Yoga
Why it's good for you and your baby.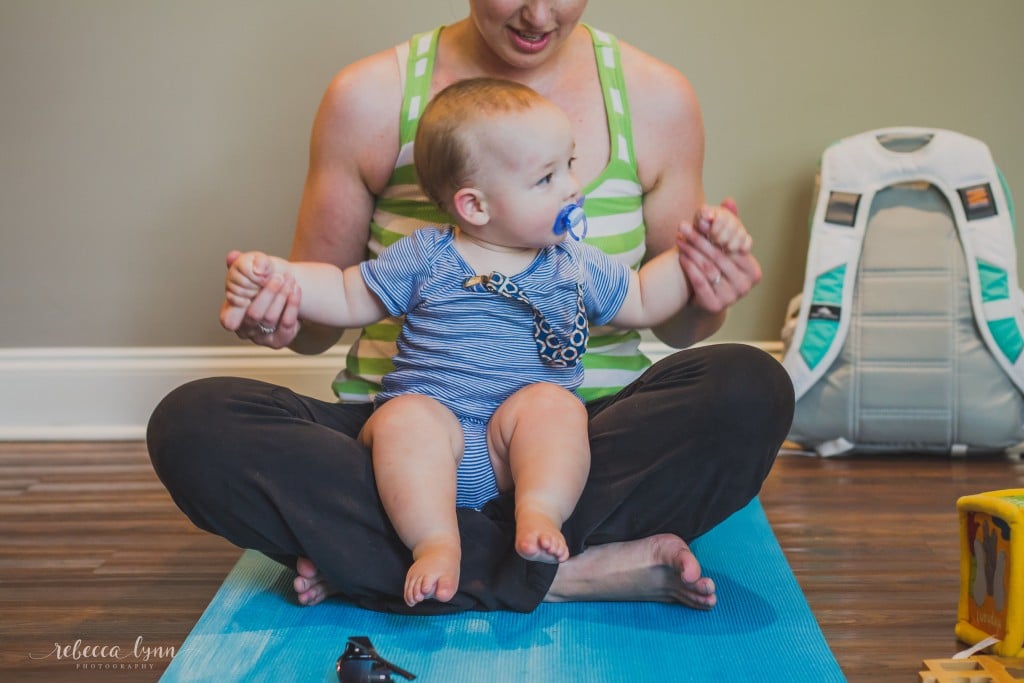 Long before children were in my life, I found the benefits of yoga. It's a crazy good workout that builds strength, flexibility, balance and mental stamina. When I had my oldest son, yoga was my reprieve for quiet and a moment for me.
During those first baby years, I was always in search of a good mommy-and-me yoga class. That was seven years ago, and there weren't so many to be found. Fast forward, and I'm in baby mode again with my second child. This time, however, there are many more mommy-and-me yoga classes available in Charlotte.
I tried my first mommy-and-me yoga class last week at Baby + Co. The class was relaxed, conversational and just what I needed to work out some kinks from carrying my 19-pound 7-month-old baby.
There were six moms at the class I attended, with babies ranging in age from 6 weeks to 10 1/2 months. The class flowed just like any yoga class starting with breath work, then moving into gentle stretches, and then progressing to more strengthening stretches, ab work and lunges. The difference was incorporating baby into the poses, some lullaby-like music playing in the background (which really is relaxing), and then some silly songs as we went through some of the poses. These are my takeaways from the class:
It's Relatable
If you're a mom with a new baby, you can relate to the other moms there. A repeated response from moms at this class as to why they were there was "to get out of the house" and meet other moms. Before class started, the instructor took time to go around the room and have each mom introduce herself and her baby. At the beginning and end of class, there was conversation between moms inquiring about each other's babies, how they're doing, and just general positive vibes. I could see how if you made one class a regular event, friendships could form between moms and babies. Lunch after class? Sure why not.
All Photos by Rebecca Lynn Photography
---
No Judging
This is a place where you can come in milk splattered and with dark circles under your eyes. No one's judging. My 7-month-old was the most vocal of all as he was battling an ear infection during the class. One of the Baby + Co employees was so nice to hold him for a few minutes so I could go through a series of poses. You don't have to great at yoga, or have the newest, greatest yoga outfit. Anything goes because when you're a mom with an infant you totally understand.
---
Smart Stretches
The routine hones in on those shoulders, backs and hips that are tight from carrying and bouncing a baby. We also worked on core and getting back those important muscles lost during pregnancy, including lunges with our babies.
---
Flexibility + Value
At the start of class, yoga instructor Amy Penwell commented that it's all good if the baby needs a change, to feed or fuss. During our class, my child fussed. At the end of class, another mom breastfed while chatting with other moms, and during class the 10 1/2 month old curiously explored poses with his mom. It was all good. There's valuing in connecting with your baby at the class, and though it costs to attend, you're not paying for a sitter and the class.
---
Baby's Benefit
Throughout most of the class, the babies lie in front of or beside you. When you are doing down-dog pose or plank, you get some good mom-to-baby eye contact. My guy particularly loved the sequence where moms did squats while swinging their babies through their legs. It's engaging and entertaining for mom and baby.
---
As today is International Yoga Day, and we are in the last week of the Fit Family Challenge for 2016 (it's not too late to sign up and you could win a grand prize trip to Universal Orlando Resort), take a breath, chant an "ohm" and go try a new class with your mini me.