The Thankful Tree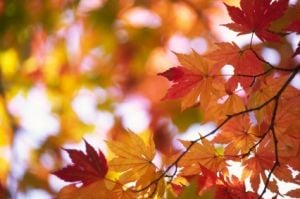 My sons, ages 3 and 5 years, have 57 dinosaurs, 24 action heroes and 214 army men. They also have an amazing collection of 47 ketchup packets, just to prove it's not the cost that counts. Before you convict me of attempted-spoiling, I'll ask you to count up your children's favorite toys. After that, consider that all these items (never mind the ketchup) were purchased by well-meaning aunts, uncles, friends and grandmas.
So while I can't take credit for these possessions, I do carry the burden of knowing my sons simply have too much stuff. I take comfort in the fact that my kids are not alone. I often commiserate with other moms over the growing monster that is comprised of their children's toys. This fiend is fed every birthday, holiday and even on an occasional grocery shopping trip. Yikes!
Even though I can't seem to put a limit on their material possessions, I can put together a plan for "thankfulness building." It's my way of saying that if they're going to collect the stuff anyway, they should at least be grateful for it. And so was born our family's "thankful tree" — a tree whose leaves hold our thoughts, count our blessings and remind us of what we are truly thankful for.
To get started, I picked an open area on one of our kitchen walls and used construction paper to create a tree trunk and ample greenery on top. I cut out an assortment of leaves in different colors and sizes, enough so that each member of the family would end up with about 30 leaves, and piled them into a leftover gift bag. At dinner, each family member receives a blank leaf, along with their plate, fork and napkin. During dinner we talk about what we'll be putting on our thankful leaf that night.
By the time the dishes are stacked in the sink, we each have written something that we are thankful for on our leaf, and have taped it to the greenery of the tree. Over time, the tree turns from spring to fall, as the colorful leaves multiply.
I've developed a few rules that help in the process, especially if you have little ones (or teenagers). First, don't force them to come up with something. Most likely, as everyone else participates day after day, they'll want to join in eventually on their own. I also don't let myself "correct" silly answers like "poopy diapers," which usually produces a round of laughter.
Instead, I simply ask why they came up with that idea. Generally you can find something about the answer that does have a ring of truth to it. You might also find that the initial thankfulness is all directed at the children's favorite toys. While this does satisfy my initial goal, I do try to steer them away from material things. I encourage them to think about being thankful for blessings like friends, sunshine and even having a little brother.
Besides taking their focus off material possessions, I hoped this would lead into a discussion each night on what is important to them, what they enjoy, what they don't. I also felt it was important to develop in them a "habit" of acknowledging their blessings.
John Lubbock once said, "What we see depends mainly on what we look for." We all want our kids to have good habits when it comes to teeth brushing and flushing when they're done, so why not teach them good habits in an area that could change their whole outlook on life.
I found support for this concept recently in a press release issued by Cornell University that discusses a new program called the Gratefulness Project.
This program has been adopted by the university's Center for Religion, Ethics and Social Policy (CRESP) as a way to "raise public awareness of the benefits of practicing gratefulness for personal growth and social change." Jonathan Back, the project's coordinator at Cornell, is working with Cornell students to produce a multimedia public awareness campaign to encourage "reflection on gratitude and to inspire beneficial personal, local and global outcomes."
Mr. Back feels that the attitude of gratefulness can be an antidote to stress and fear, as well as to help develop a sense of appreciation. The Cornell initiative includes a prototype for other campuses to follow, a middle school curriculum and scientific research to explore the efficacy of practicing gratefulness. It remains to be seen how this Gratefulness Project will affect the campus and community. While we await the results, why not do our own field work, in our own home?
I found our thankful tree project helped us to be more grateful, and even threw in a few surprises. I developed a deeper understanding of what was in my children's hearts, even though I spend literally all day with my children. I hope we can continue this family tradition long into their teens, as one way to stay tuned-in to what's on their minds. I also found it to be an interesting challenge for myself and my husband, who should have been seasoned pros at this. It sparked more than one discussion about our need to be more thankful for what we have, rather than only eyeing the stack of bills, or list of house projects, that seem to never dwindle.
As I tore down the tree at the end of the month, I couldn't bear to just toss the leaves. So I gathered them up and stashed them in my children's treasure boxes. Each time the thankful tree reappears, another group of leaves is produced. These thoughts, wishes and thank-you's speak volumes about our family at each stage that we go through together.
What an amazing present we've been given in these bundles. And unlike our other possessions, these leaves will never break, run out of batteries or go out of style.
Woody Allen said, "the talent for being happy is appreciating and liking what you have, instead of what you don't have." Together, our family is learning that it is important to appreciate all that we have — and all that we have is quite enough, thank you.