The Queen City Quints Turn 1
The Bonner family reflects on their first year as a family of seven.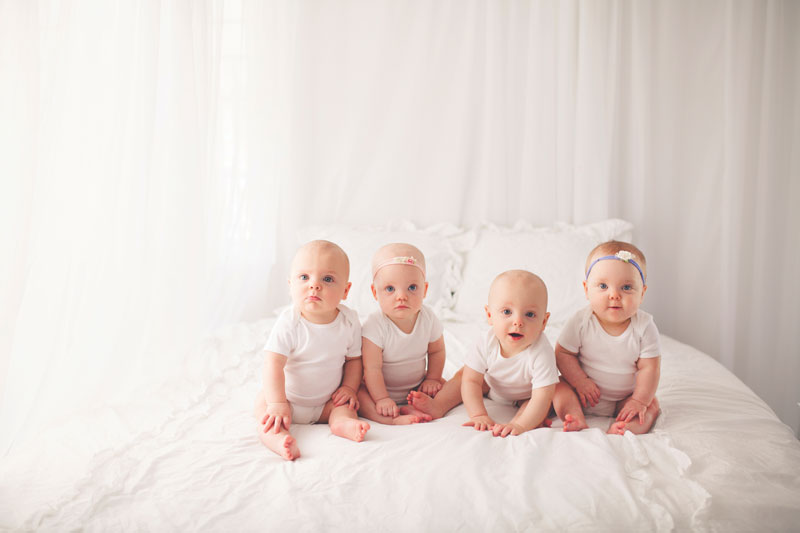 Carolynn Bonner grew up watching television shows about families who had multiple babies. "I remember thinking that would never happen to me, but it's cool to watch. Yet here we are."
On July 13, 2016, Mitch and Carolynn Bonner became the parents of the Queen City Quints. In birth order, that's Benjamin, Aubree, Carter, Emilee and Dylan Bonner.
"We were shocked to say the least when we found out I was pregnant with quintuplets," Carolynn Bonner says.
After struggling with infertility for three years, the couple had undergone their third round of intrauterine insemination when the ultrasound showed multiple follicles. Carolynn was watching the screen when the doctor counted two, three, four, five babies.
"I said 'WHAT?' I grabbed Mitch's hand and squeezed and said, 'There's five?' He just looked at me and said, 'It's OK,'" she says.
At first Carolynn Bonner wasn't sure if it would be OK, but as the shock wore off, she knew it was God's plan for their family.
"We prayed for it for so long. This is what we wanted," she says. "We are strong believers in that there's a reason for everything and this is what we were meant for."
After weeks of modified bed rest, the QC Quints were born at 27 weeks, three days gestation.
---
Celebration Amidst Loss
In the midst of celebrating the lives of their babies, their son Dylan passed away only 22 minutes after birth.
"That's the hardest part. Our whole world changed in an instant when they were born. Then it changed again," Carolynn Bonner says. "When they tell you you've lost a baby, it's a shattering feeling. But at the same time, you feel so full because you have four other babies. It's hard to process."
As the family prepares to celebrate the babies' first birthday, they also plan to remember Dylan.
"We want to make sure we acknowledge Dylan and all of them on their birthday. We are going to plant a tree in the yard for him and do a balloon release as his family," she says. "As the years go by, the kids can send notes to heaven for Dylan when we release balloons each year. We want to keep their birthday party as a happy time, but we still want to acknowledge Dylan."
The Bonners also plan to use the day to say thank you to the doctors and nurses who cared for the family as the quints' births were a big deal for them too, Carolynn Bonner says.
---
Team Bonner: One Year Later
Benjamin, Aubree, Carter and Emilee are growing well and hitting their targets for their actual and adjusted age. They also keep their parents on their toes as they approach their first birthday.
"Things are harder now than when they were newborns," Carolyn Bonner says. "They are mobile and are pulling up on things. They are everywhere and everything goes straight into their mouths."
Caring for multiple babies at once can be overwhelming, but the Bonners have found one thing to be very helpful: a schedule. As many parents can relate, the most hectic part of the day in the Bonner house is the evening.
"The time in between dinner and bed time routine is most hectic. They are starting to get fussy and want to play, but we need to do baths," she says.
A lot has changed for Carolynn Bonner since she has become a mother to multiples.
"I'm no longer working and I no longer have a minute to myself. It's amazing what your body can do on very little sleep," she says. "I've learned a lot about myself, and to be patient with myself. I've found more strength than I thought I had with raising four babies and losing one, and trying to be a wife. The little things mean the most. My family is everything to me. It's definitely changed me as a person," she says.
Milestones like bringing the babies home from the NICU, the first time they rolled over, first smiles, and hearing them say "mama" or "dada" are all highlights of the first year.
"When we struggled with infertility for so long, we didn't think we'd have one baby to do that with, but now we have four. Becoming a family is our biggest highlight. It's what we wanted for so long," Carolynn Bonner says.
Looking Back
It has been a year the Bonners never could have predicted. So, if Carolynn Bonner could go back in time and say something to her pregnant — and astonished — self when she learned she was carrying quintuplets, what would it be?
"I'd just tell myself to believe Mitch. It will be OK. No matter the circumstance, we will figure it out together."
And for anyone struggling with fertility, she offers this advice: "Just when you think you're ready to give up is when something happens. Don't give up. Don't lose your faith."
---
Advice for the First Year
Newborns have a way of offering a crash course in infant care to parents, especially first-time parents. When tasked with nurturing four newborns at one time, the crash course became even more intense for Carolynn and Mitch Bonner. Over the first year of the Queen City Quints' lives, Carolynn Bonner has learned a lot. She offers this advice to new parents.
Find a schedule that works for you.
Be patient.
Take help when it's offered.
Sleep when you can.
Be certain of your choices, even if others have different opinions.
Not showering every day is OK.
Celebrate the milestones.
Meagan Church is a writer, children's book author and the brain power behind unexpectant.com, which explores the story of modern motherhood. She lives in Charlotte with her high school sweetheart, three children and a plethora of pets. Connect with her on Instagram (@meaganchurch) and Twitter (@unexpectant).