The Produce Box Brings Fresh to Your Doorstep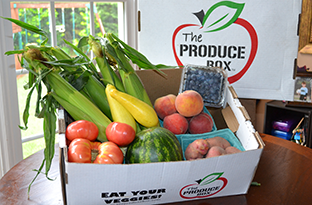 The Produce Box is helping Charlotte get healthy with doorstep deliveries of fresh produce. The North Carolina subscription-based company expanded into the Charlotte market in fall of 2014, and is delivering in Dilworth, Myers Park, Elizabeth, Matthews, South Park and Ballantyne neighborhoods. It's also hiring!
Not only is The Produce Box helping families eat better, it is a way for parents to earn cash while taking their kids to work. Neighborhood coordinators spend five to 10 hours each week delivering 20 to 25 boxes to neighbors and get paid for deliveries, says Kristin Harper, The Produce Box marketing director. Ten of 12 community coordinators in Charlotte are stay-at-home moms, she says.
Local mom and neighborhood coordinator Karen Willis (pictured) helps manage the garden at her daughter's school and enjoys teaching kids about healthy food and how to grow it, but says she loves that she can now help adults to reach that same goal. "Success to me is when I see someone liking a veggie that they have never tried or never liked before." From sweet potato muffins to pickled pink turnips to fresh a la vodka pasta sauce, Willis says her weekly order has led her to explore new, healthy recipes she'd never previously considered.
The Produce Box works with 40 farmers across the state, and more than 60 North Carolina artisan providers that provide meat, cheeses, jam, honey, granola and lots of gluten-free items, Harper says. After paying the $18 joining fee, it's a pay-as-you-go system that allows members to order a box each week – or not. Members receive an email menu to see what's in upcoming week's box and decide if they like what's inside, says Harper. You can also customize the box with artisan ingredients. Boxes range in cost from $22 to $36 each week.
Learn more at theproducebox.com.