The Positive Learning Effects of Dad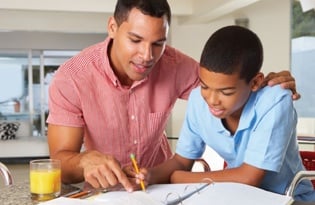 Child rearing, from wiping runny noses to helping kids with their homework, has traditionally been relegated to the mother. But what if fathers could positively impact their children's success in school?
Many educational experts believe that a father's participation in the educational process is paramount to a child's progress. According to the national Parent-Teacher Association, studies show students perform better when mothers and fathers are both involved in the education of their children.
Men and women think differently and bring different perspectives and skills to school and PTA activities. School communities and PTAs thrive when both men and women participate. Yet men remain a largely untapped resource primarily because there is that persistent idea that mothers always have lots of time, and fathers are always too busy to be involved in their children's schooling.
For younger children, the father can be one of his child's first teachers by helping him or her develop literacy skills. You don't need expensive toys, just imagination and your children's favorite playmate — YOU!
A recent study of 1- to 2-year-olds found that those who played with blocks with their parents for 20 minutes a day scored 15 percent higher on language-development tests and were 80 percent less likely to watch television.
The real involvement begins when Dad begins to work consistently with a child as he or she gets older. The extent and form of participation is very important. It is sitting with the child, with much patience and consistency, and helping the child advance. Standing back and using threatening words and actions are counterproductive.
Peggy Gisler and Marge Eberts are experienced teachers who have more than 60 publications to their credit.