THE PINT-SIZED FOODIE: An introduction to Cheat's Cheesesteaks
The latest from our kid food critic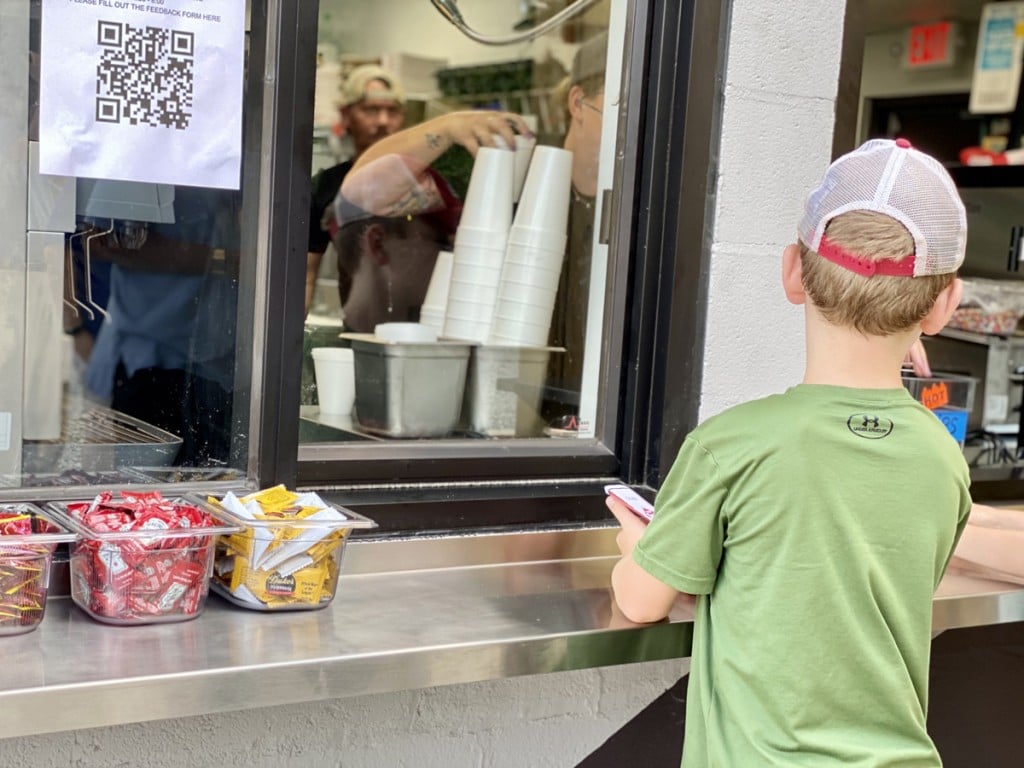 Each month, our 9-year-old resident foodie visits a different Charlotte-area restaurant that's kid-friendly—but not a kid-topia. He orders something he's never tried before and reports back with his recommendations for kids and their parents. Here is his review of Cheat's Cheesesteaks:
What we ordered:
We got a Classic Whiz-Wit Cheesesteak ($14) cuz you said we had to. Also, we got the Hot Pretzel Bites ($9), and my sister got the Whiz Kids Meal ($9) with a breakfast sammie.
How it works:
You order at the counter. There's not a restaurant where you go inside and sit down, so you just wait under the tent while they make your food. It took kind of a long time (read: 10 minutes) and it was really hot out, but they had music playing. When your order's ready they call your name over the loudspeaker and you pick it up at the counter. They wrap all the sandwiches in foil and put everything in to-go boxes. You can stand up and eat at the outside counter, or there's picnic tables in the parking lot. Or you can just take it home and eat it there.
Why I liked it:
Everyone who worked there was really nice to us and they wore those funny T-shirts. What did they say again, Mommy? (Read: May the Whiz be Wit You). Also, I liked that super-yellow cheesy sauce they give you with everything. (Edit note: Fries and Pretzel Bites come with hot Cheez Whiz for dipping)
What I didn't like:
Waiting outside cuz it was sooooo hot.
What I tried for the first time:
Cheesesteak! It was huuuuge! Like, Mommy and I split one and we still couldn't finish it.
Why other kids should try it:
The kids' meal has a lot of choices. My sister got the Breakfast Sammie, but you can also get it with Cheesesteak or Chicken Tenders. And they give you a TON of fries. Oh! And you can get an ice cream cone for dessert! (Edit note: ​​You can order a Soft Serve Ice Cream Cake Cone in vanilla, pineapple, or swirl for $4. Vegan, dairy-free, and gluten-free options are available, and you can get your cone dipped in Chocolate Magic Shell for $1 more.)
What I liked best:
The Pretzel Bites with the dipping sauce. But the Cheesesteak was pretty bomb, too.
Why parents will like it:
It's all outside and it's not fancy or anything, so kids can make a mess and run around and nobody cares.
Why I would come back:
I wanna try the pineapple ice cream cone next time.