The Pint-Sized Foodie: A Visit to Village Tavern
Insights from our 6-year-old food critic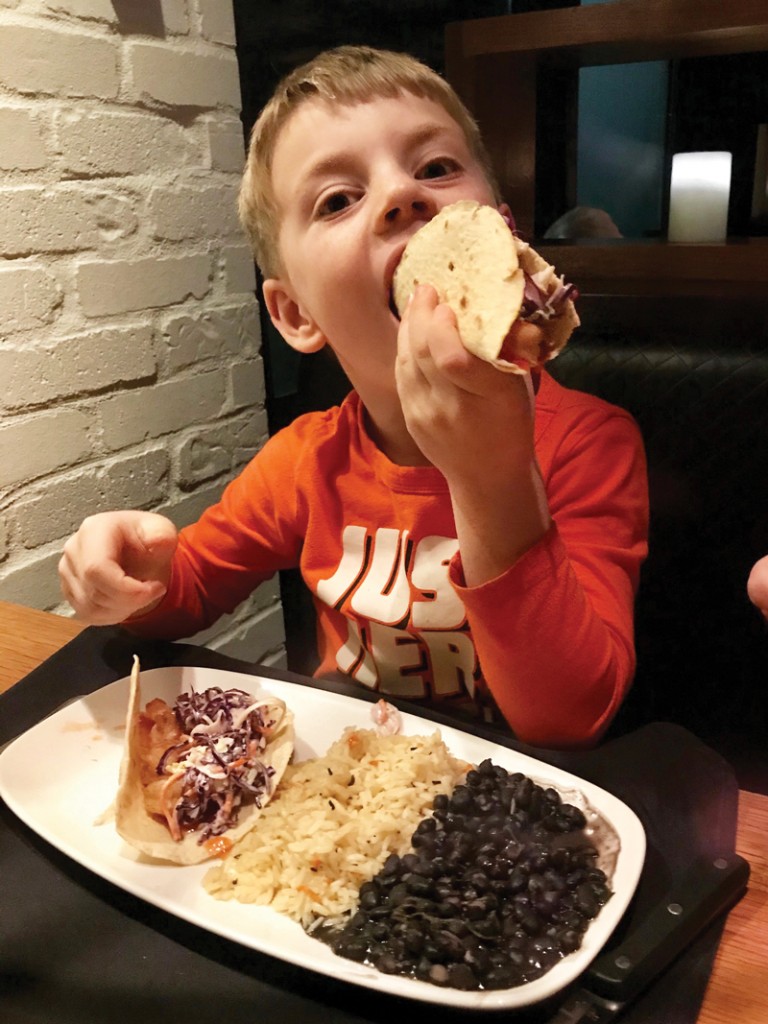 Each month, our six-year-old resident foodie visits a different Charlotte-area restaurant that's kid-friendly—but not a kid-topia. He orders something he's never tried before and reports back with his recommendations for kids and their parents. Here is his review of Village Tavern:
What I ordered: The firecracker shrimp tacos ($15.50), because it was Taco Tuesday, duh!
Why I liked it: I could eat it with my hands and the mangos in the salsa were yummy.
What I didn't like: It came with rice and black beans, but I don't like black beans.
Why other kids should come here: They have tacos and fancy pizza (read: flatbread) and nachos on the long menu, and kids eat stuff like that. They have a kid's menu, too. My sister got the chicken fingers ($4.95). Then we both got a kid's ice cream sundae ($1.75) for good restaurant behavior—hot fudge for me and caramel for her.
What mom and dad ordered: The bacon-wrapped scallops ($14.50) and the baja fish tacos ($14.50).
Why mom and dad liked it: They can drink wine and beer and talk about grown-up things. They liked pointing to the old pictures of uptown Charlotte on the wall and telling us about stuff from a long time ago.
Why I would come back: I can run around on the outside patio when it's warm. And you can grab a mint from the bowl on your way out. —T.B.