The Pint-Sized Foodie: A Visit to NC Red
Insights from our 6-year-old food critic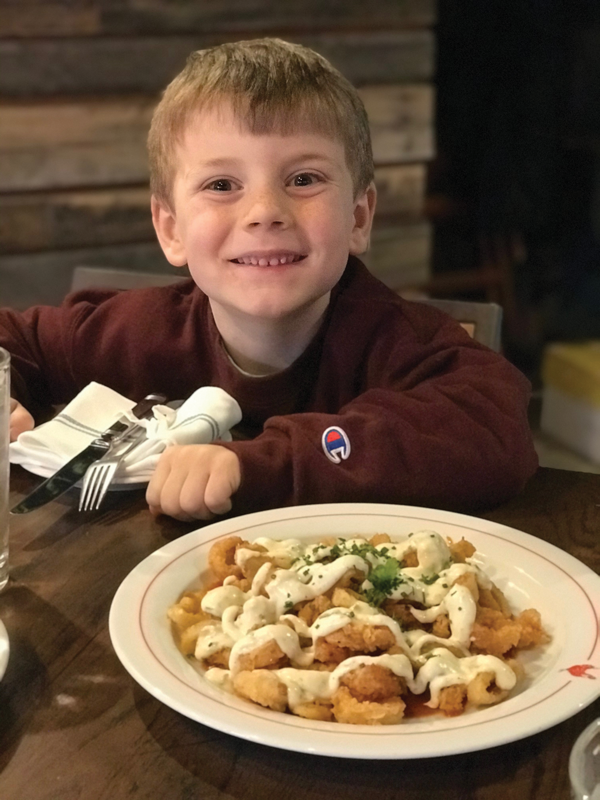 Editor's note: The dining room at NC Red is currently closed, but the spot has takeout hours Tues-Sat, 12 p.m.-8 p.m.
---
EACH MONTH, our six-year-old resident foodie visits a different Charlotte-area restaurant that's kid-friendly—but not a kid-topia. He orders something he's never tried before and reports back with his recommendations for kids and their parents. Here is his review of NC Red:
What I ordered: We got a lot of stuff with a lot of forks. Daddy ordered the Point Judith Calamari ($14) and the Stuffies ($11) for us to share while they cooked the bigger plates. Oysters are my favorite, so I got them Casino Style ($14) because our waitress said I would like the breadcrumbs on top. Daddy got Steamed Mussels Gansett Style ($15), and Mommy got Nashville Hot Chicken ($9) with Brussels Sprouts ($7) and Cornbread ($3).
Why I liked it: The Rhode Island onion rings (read: calamari) were soooo yummy! I liked the red sauce on the bottom, and even my sister ate them! At restaurants she only orders mac and cheese. She liked the Stuffies, too! At first she didn't want to taste them, but after Mommy gave her a bite of hers, she wanted her own.
What I tried for the first time: Brussels sprouts. I thought they would be icky, but Mommy put some on my plate and I liked them! They had sweet and crunchy stuff on them (read: pecans and dried cranberries), and they didn't even taste like a vegetable!
Why other kids should come here: There's a really cool blue octopus painted on the wall outside. Our table was on the patio, and there were other kids around, so I didn't have to sit in my chair the whole time. They had Mac and Cheese ($7) on the kid's menu for my sister, but she liked the Stuffies better because the name is funny and she could hold the shell in her hand and eat it without a fork.
What I liked best: Me and my sister got frozen yogurt for dessert ($4), and it had raspberries on top. (Tip for parents: Ask your server to split an order of soft serve in two separate bowls for the kids, and they'll still charge you $4.)
Why mom and dad liked it: Daddy went to Rhode Island every summer when he was a little boy, so this is his favorite food. Also, they have the super tall beer cans he likes (read: Narragansett 16 oz. cans). Mommy and Daddy really liked leftover mussel juice, so they asked for extra bread to dip in it.
Why I would come back: I could sit at the counter and watch the cooks play with the lobsters and clam shells in the kitchen. —T.B.