The Perfect Bag for Every Occasion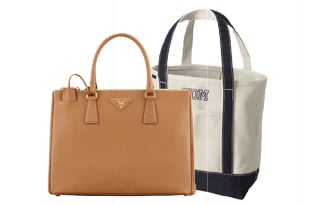 Whether you're a stay-at-home mama, one who works away from the home or one who, like me, can't seem to grasp the fairytale concept of less is more; the inability to keep it all together can be detrimentally devastating. Whatever your appointment, you are a warrior, and survival is largely dependent on the bag you carry.
1. Clutch. Everyone needs at least one great clutch for those fun evenings out on the town. I recommend you have at least one higher quality staple and then fill in the blanks as per your heart's desire with fun, floral and festive options for every season. JJ Winters metallic clutch, $88, available at KK Bloom.
2. Beach bag/diaper bag. Whether you are parent to a newborn or a brood of teenagers, there couldn't be a more important bag to own. Long live the legendary Lands' End Canvas Tote. Reinforced with a rip-resistant bottom and handles, this oh so durable version is the tanker of all canvas bags. Personalize your bag in your favorite font and color, and it's as cute as it is functional. Give the smaller version of this bag to a friend, filled with all the necessary diaper bag items, and you have the perfect baby shower gift. $20-$50, landsend.com.
3. Messenger-style bag. As a working Mom with two small boys, I feel like I am always running. For business lunches or client meetings, I reach for a more polished bag, but for everyday comings and goings, this hands free option is the only one for me. For as long as I can remember, I've been carrying Coach's Classic Stewardess Bag, handed down to me by my mother. At 25+ years old, this option is durable and timeless, and the leather just gets better looking with age. $358, coach.com.
4. Executive Tote. The Queen City is home to one of the country's largest banking capitals, and unless you work in a creative field, you know there is not much room for expressing your fashion sense. It all comes back to bags and shoes, and with strict corporate dress codes, this is one area you have full permission to indulge. You spend years committed to your employer, so when you hit your next major professional milestone, treat yourself to a tote that reciprocates your hard work and dedication. Prada Saffiano Small Double-Zip Executive Tote Bag in brown, $2,230, Neiman Marcus at Southpark.

Find more style tips from Whitley in her Mother of Style blog.
Related links:


3 Great Online Swimsuit Resources for Moms

5 Ways to Look and Feel Your Best

Top 5 Trends for Fall