The New You: Reinventing Yourself for Success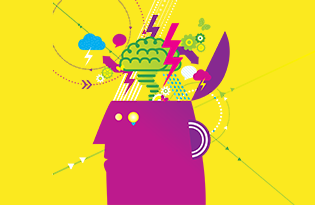 Just as many employers are changing to meet the work-life balance needs of their employees, employees and their families also are facing changes. Whether it's returning to school, rejoining the workforce, becoming a single parent following a divorce, starting a business or making a dramatic career change, parents are reinventing themselves now as never before.
Changing demographics are behind some of these life transitions – compared to our grandparents' day, we're a more mobile society, with more women in the workforce, a higher divorce rate and a greater tolerance for getting our inner needs met. And recently, hard economic times have forced many people into changes they wouldn't normally have considered.
Regardless of the reasons for change and the direction parents' paths are taking, all parents in transition face an uphill climb. Whether you're contemplating making a change, are already in the middle of the journey or are the partner or spouse of someone on a new path, the following tips will help you guide you forward.
Listen to that still, small voice.
Maybe your life is stable. You and/or your spouse have gainful employment and a good relationship, healthy children, money to pay your bills and a little left over. Still, you feel a restlessness or yearning to do something different. If you have the luxury of time to plan and execute a change, take time to listen to that voice that is urging you forward rather than repressing it out of guilt.
After more than 20 successful years in sales, Kim Brame McGimsey of Raleigh began to feel that she should be doing something else. In fall 2008, she quit her ad sales manager job with a business weekly publication to be home after school with her then-6-year-old daughter and to explore career options. "I always knew I'd have a second career," McGimsey recalled recently.
Fortunate to have a supportive, working husband, McGimsey took time to discover what moved her and kept coming back to a subject she had first become interested in as an Inter-Faith Food Shuttle board member: nutrition. Then a friend tipped her off to the health coaching certificate program offered by the Duke Integrative Medicine in Durham.
"What I liked about the Duke program was that it looks at the whole person," McGimsey says. "What's also good is that I get to use the favorite parts of my old job, including asking clients lots of questions.
The process took close to a year. Today, McGimsey is a self-employed certified integrative health coach, helping clients stay motivated and accountable as they improve their health either proactively or in response to an illness. She not only loves the work but also the flexibility that being a business owner affords.
"I get to pick my daughter up everyday after school; I'm there when she does her homework and with her until she goes to bed," she says. "When I was in sales and life was more hectic, I kept having a vision of her as a young woman thinking about me, and the image she had was of me looking back at her over my shoulder, hurrying her along. That was a big motivator for me to change."
RELATED: Get tips from work-life balance experts at the 17th Annual Moms@Work Conference
Think both short- and long-term.
Maybe you've experienced a layoff and dream of using the opportunity to go back to school or start a home-based business. That's a great way to stay positive, but such goals will take time. In the meantime, to pay the bills, you might have to take a job for which you're overqualified and cut out nonessential spending. You also need to get your finances in order. This might mean refinancing your home or taking a home equity loan to help with bills or pay for tuition/start-up costs. Be careful not to overextend yourself or incur new debt that isn't an investment in your future. Not only will being conscious of your cash flow during this time help practically, it will also free your mind to focus on your plan.
Take a team approach.
Whether you're married or single, you'll need support during your transition. Spread the word about your plans – in-person or via social media – so friends and acquaintances can introduce you to potential employers or connect you with others in your situation. Attending support groups or networking events in the field you hope to join is also important during your journey. Finally, don't forget to consider how your life change will affect your spouse and children.
"You need to work on this as a couple," says Julie Wayne, an organizational psychologist and professor of business at Wake Forest University in Winston-Salem. "You need to be supportive of each other both emotionally and instrumentally. For example, if someone is going back to school they may have less time to help around the house or with the children."
Wayne should know. Not only does her recent research focus on "crossover" – the notion that one spouse's stressful experiences directly impacts the other – but she has been part of a major life change. When Wayne's husband lost his job of 15 years unexpectedly last fall, she became the primary breadwinner. Although her husband is now working again, albeit in a different field, the months of unemployment took their toll on the couple and their three young children.
"It was stressful and a major financial transition," she recalls. "But it was important for us to reframe it as opportunity for him to evaluate whether he was in the right job, the right career, the right field, even though it was not a move he would never have made willingly."
Consider professional help.
It often takes an expert to help us put our problems and challenges in perspective. Whether it's a psychologist, career counselor, image consultant or life coach, the professional brings technical skills and wordly wisdom to bear on unique situations. Some parents in transition need a resume makeover. Turning to a career counselor or resume service can help them discover their most marketable and transferable skills and most noteworthy achievements. If cash is tight, look into free or low-cost resume and career counseling services offered by community colleges or nonprofits. Similarly, free business coaching services offered by the Service Corps of Retired Executives (SCORE) and community colleges can help would-be entrepreneurs get started.
Others who have the time and resources to pursue a more comprehensive approach to reinventing themselves may want to consider working with a life coach.
"A life coach can help a person in transition by listening, helping them understand what they need, analyzing their situation and options, and helping them create a solid vision of the successful outcome," says Betty Reynolds, a life coach in Charlotte. "Life coaches can also provide tools such as skill assessment, resume writing, interview practice, self-marketing and time management."
People who are reinventing themselves often have to deal with other issues that complicate their decisions, notes Reynolds, and life coaches can help with that as well. Such issues might include dealing with an imbalance in family equilibrium or tension between spouses stemming from a new job or role.
Regardless of their circumstances, the people Reynolds works with are looking to live life on their own terms.
"They're tired of living by default, and want to live by design," says Reynolds.
Suzanne Wood is a Raleigh-based freelance writer and mother of three.
Links You Might Like:


The Pursuit of Passion: Have the Career You Want

Tips from Work-Life Balance Experts

Finding Courage to Reenter the Work-Force After Being a Stay-at-Home Mom