The Lazy, Hazy… Anxious? Days of Summer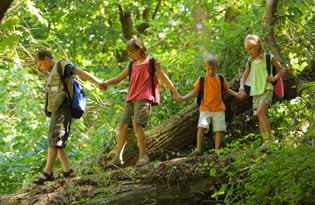 School's out, temperatures are rising, and the outdoors are beckoning…and that means that across the country, kids and their parents are gearing up for day camps and sleep-away camps. The problem is, not all soon-to-be campers are excited about their summer schedules. Some children are unsure about spending so much time away from their homes and parents…and some are downright terrified by the prospect.
Always remember that children, and especially their emotional growth, are not one-size-fits-all. Before sending your children away from home this summer, read on to learn how to spot separation anxiety and how you may be able to alleviate it if it appears:
Talk it over with your child. Before signing up for any camp, ask your child how he's feeling and what he thinks about these plans. Above all, be sure to acknowledge your child's feelings as legitimate. Even if you don't believe there's any real reason for him to be upset, remember that his feelings and fears are very real in his own mind.
Realize that some amount of separation anxiety is normal. The timing and duration vary, but every child experiences some level of stress when facing a separation from his or her loved ones—so there might be no need to panic. You know your child best, so simply trust your instincts if you suspect that she's more than just a temporarily unhappy camper.
Look for causes. If your child is feeling distressed for another reason, he'll be in need of extra comfort and security…which can easily lead to a stronger-than-usual desire to be with his parents in familiar surroundings. For example, a divorce, a recent or upcoming move, or even your stress can trigger separation anxiety.
Practice shorter separations. If your child is apprehensive about being away from home, work your way up to longer separations. Practice short separations—maybe just an hour or two to start—and increase their duration, taking into account your child's reactions.
Stay calm and positive. If your child voices worries, acknowledge them, but don't feed into them by adding your own apprehensions to the pile. During the days leading up to camp, it's best to focus on its positive aspects. Remind your child of how much fun she'll have and what she'll learn.
Feed your child's interests. It's always a good idea to make sure that any camp you're considering for your child is a good fit for him. After all, if he's happy and engaged, his attention is more likely to be focused on what's right in front of him, and not on what he's missing.
Let your child take "home" with him. Send familiar objects with your child, such as a favorite stuffed animal, a small picture of you, and phone numbers. She'll feel less cut off from everything that's familiar, and will therefore be less likely to experience severe homesickness. It's even better if she can go to camp with a friend from home.
Don't be too quick to provide an out. If your child is upset and emotional and begs to be with you, you'd need to have a heart of stone not to be affected. But it's very important for your brain to remind your heart that if you give in too easily, you might prevent your child's emotional growth. Ultimately, though, you know what's best for your child—so if you truly feel that he's in a bad situation, err on the side of caution.