The Home Edit: Charlotte Edition
Brave Broth founder Joanna Reule and Simplicity Organizers owner Laurie Martin team up to replace clutter and chaos with clean and calm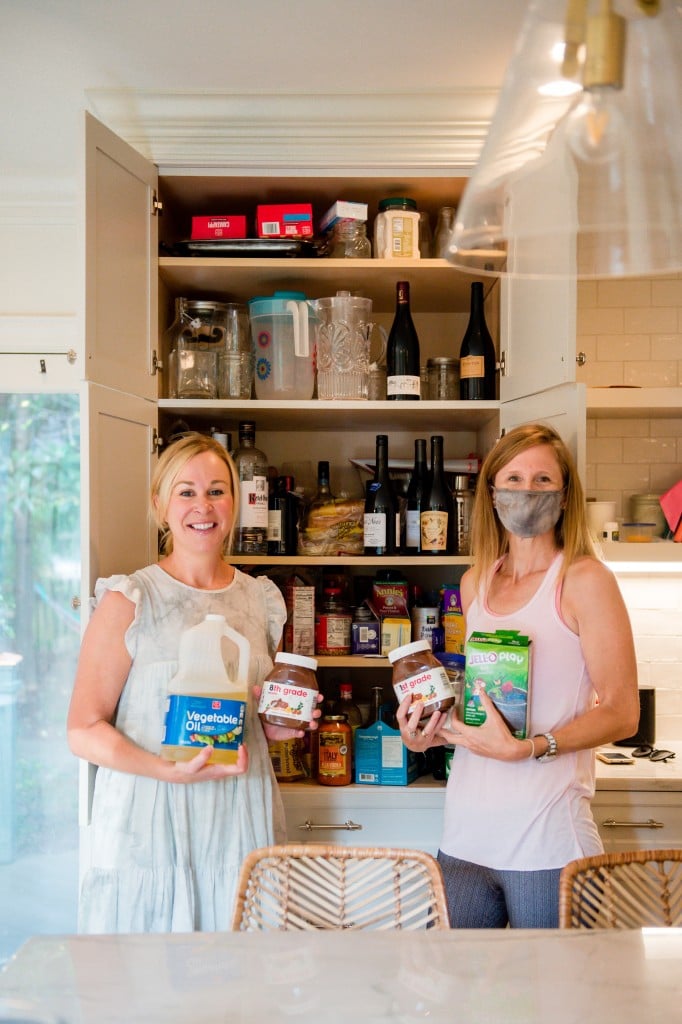 Joanna Reule is one of millions who tuned in to Netflix's hit reality series "Get Organized with The Home Edit." If you're not yet familiar, The Home Edit is a Nashville-based home organization business, and the show follows co-founders Clea Shearer and Joanna Teplin as they organize homes of both celebrities and ordinary people. There's a good chance you'll drool over the loopy cursive labels, pristine pantries with clear containers, and rainbow color coding of everything from sweaters to sprinkles.
When the pandemic hit last spring, Reule, owner of Brave Broth, was spending more time at home with her husband, Dave, and four children, Reese, 13, David, 11, Hannah, 8, and John, 7. With six people around all day, "our house just kind of fell into disrepair," she says.
But for Reule, who says her parents raised her to appreciate the great outdoors more than the great fitted sheet fold, organization doesn't come easily. "It kind of hurts my brain," she admits. In the spring of 2020, with extra time to stare at the mess, Reule reached her breaking point. So she called on friend Laurie Martin, owner of Simplicity Organizers.
The entrepreneurs first bonded over their passion to serve. Both regularly donate time, money, and in Martin's case, services to those in need. Plus, Martin was one of Reule's first cheerleaders. "She tried my bone broth at a mutual friend's house and saw potential immediately," Reule says.
As coronavirus cases climbed, demand for Reule's broth surged, making it harder to keep up on the home front. At the same time, Martin's home organization business hit a slump. She offered discounted services in exchange for before and after shots, but people were leery of showing their messes on social media. That's when Reule stepped up.
At the top of her wish list was an organized mudroom and pantry. In the mudroom, she wanted a functional space for a new family pet. In her pantry, she wanted to tame the clutter so she could find the peanut butter, along with every other kitchen staple.
Martin and her team began with a visit to Reule's house to assess how the family needed their spaces to work. "Organization is about reality and function, not perfection," Martin says. "Nobody shops the grocery store by color."
Next came the sort: keep, donate, or toss. "We probably purged a U-Haul's worth of stuff," Reule says. Martin donated salvageable items to MiraVia, which provides support for pregnant women and their children. The local nonprofit is one of more than 70 that benefit from Martin's business and client donations. "If you give back, then you go home and look at your stuff in a different way," she says.
TIP: Prevent clutter from accumulating by being mindful of what comes in (e.g. freebies, birthday party swag).
When it's time to organize, Martin likes clients to participate. "We like clients to hear the questions we're asking so they can maintain organization in the future."
With the mudroom and pantry organized, Martin's team tackled the den and Reule's 8-year-old's bedroom, where the sort proved to be harder. "Do I really throw away my daughter's seashells from the beach, even if they'd probably sit in her drawer until she goes to college?" Reule says. "What about the drawings, the old friendship bracelets, the half-knitted scarf?"
For these keepsakes, Martin provided a clear acrylic souvenir bin. She recommends using clear bins whenever possible because pretty baskets give us permission to hide things where they don't belong.
Like that souvenir bin, most containers came from The Container Store or Target. For Reule, the hard part was not saying "yes" to every shiny new container. "There was this cool turntable, almost like a mini Lazy Susan," she says. "My daughter's art supplies would have looked great in it, but her old box works fine." Plus, Reule added, she can slide the box under her dresser and out of sight. And free beats $40 every time.
TIP: Go vertical. Use hooks and stacking to maximize clear desktop space.
According to Martin, sentimental and even financial attachments to items can give us pause in a home organization project. But it's crucial to identify the essentials and eliminate the rest. "When our homes are less cluttered, when we can easily find and return items to their rightful places, we feel better," she says.
Even just watching Clea and Joanna declutter someone else's space on our TV screens can motivate us to get ourselves organized. The show, with its relentless pursuit of order and beauty, reaches something deeper: our desire for control at a time when our lives are in chaos.
TIP: Use a one in, one out rule: if kids are bringing in a new toy or gadget, have them choose an item to donate.
Maintaining the space once it's organized is critical; that's why Martin and her team focus on the system itself. "We can create a beautiful space, but if the client can't keep the space organized, we've failed."
For busy parents, involving the kids helps, too. Reule's children, like most, complain about picking up. But now, with everything labeled, she says, "They just do it. Do they do it every night? No. And that's okay." The goal is not perfection—it's better than before. And she's achieving that, little by little.
TIP: For younger kids, take a photo of the container's contents and add it to the label.
Reule's next project is her home office, but she's in no hurry. "I think we all need to be gracious with ourselves," she says. "If this isn't your season for home organization, that's fine."
But if it is, treat yourself to that clear acrylic turntable in the new year. It'll look great next to those clear spice containers and ROYGBIV sprinkles.
To learn more about Simplicity Organizers and Laurie Martin or to schedule your consultation, visit www.simplicty-organizers.com, or for more organizing tips, follow along on Instagram @simplicityorganizers. To read more about Joanna Reule and Brave Broth, visit www.bravebroth.com or find her on Instagram @brave_broth.
NIKKI CAMPO is a Charlotte-based freelance writer and mother of three. Her work has appeared in The Washington Post, Huffington Post, McSweeney's Internet Tendency, and elsewhere. FOllow her on Twitter or her website.
---
Don't have the budget to hire a professional organizer? Here are some free and low-cost ideas to get organized:
Start small: empty and sort a junk drawer or bulging cabinet.
Arrange shoes toe-to-heel to save space.
Before bedtime, play music, set a 5-minute timer, and get the whole family involved with pick-up. Make upkeep an expectation for everyone, just like brushing teeth.
Attend shredding events to get rid of old paperwork.
Reuse Amazon packaging as giftwrap.
Invest in uniform slimline hangers, then turn clothes to face the same direction.
Don't shop. Do the purge first, then buy only the containers you need.