The Finer Points of the Game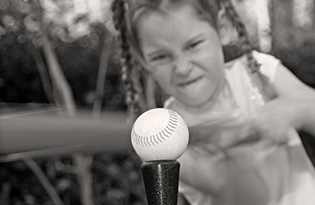 It's one thing to watch my 5-year-old daughter Sage's mental growth and development, but it's another to see her get stronger physically. Recently she started taking an interest in sports. Last month I pitched an oversized ball to her as she swung a plastic bat at it. After a couple misses, Sage connected for the sweetest two-foot hit you've ever seen. The smile on her face said it all, but I think the smile on my face said more.
I realize there's a connection between a father and his kids when it comes to sports. Yes, mommies have that connection as well, but since I'm a guy, I'm giving the male point of view. Let's face it, as proud as I am of Sage's academic accomplishments, I found my pulse quicken when she told me she was interested in sports. That's because I have dreamed for a long time of helping her learn the finer points of a game.
It reminds me of my younger days. It also makes me think of all the times I've seen a dad and his child play catch, shoot hoops or learn to kick a ball. I've wanted that to be me, and now is my chance. Sage recently told me that although baseball is OK, soccer is her latest interest. That's fine with me. I will teach her how to kick a ball from the comfort of my front yard. And the sport known around the world as futbol is awesome when it comes to developing teamwork and endurance. But the bottom line is that I'd be happy working with my little girl at tiddly-winks as long as we worked together.
My son Brayden is 2, and I find myself wondering if my sports relationship will be the same with him when he gets older. The only thing I know for sure is that when my kids are competing in a game, I will be in the stands cheering them on, teaching them about sportsmanship … and making sure the ref doesn't make a bad call against them.
Bruce Snyder is a longtime sportscaster who lives in Charlotte.