The Fine Art of Sportsmanship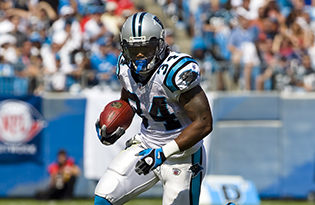 My daughter Sage, 6, has turned into a big Carolina Panthers fan. She went from not caring about football to not caring what opposing fans think. Now she looks forward to watching football with me.
I have to admit, it's a cool feeling. I always sort of figured my son, Brayden, would be the pigskin enthusiast, but right now at just 3 years old, he is more interested in just throwing a football (or anything else he can get his hands on). Sage, on the other hand, seems to really enjoy the sport's pageantry and excitement. Most of all, Sage has learned to talk smack. My princess realizes that generally it is not OK to be mean to other people, unless they root for the other team. Then all bets are off.
It all started a weeks ago when the Panthers were playing (and pounding) the New York Giants. We were at a sports-themed restaurant. There were a lot of football fans rooting for their various teams. Sage seemed to enjoy the hooting and hollering. Soon she was asking me questions about how a team scores and what various penalties mean.
When the Panthers finally got into the end zone, the place went wild and Sage broke out into a huge grin. After learning the Panthers were leading and about to win, my kindergarten kiddo started hollering "Go Panthers!" And "Giants stink!" The New York fans sitting across from us couldn't help but smile at her enthusiasm. My wife and I couldn't help but grin as well. After all, Sage has learned how much fun it is in the South to watch sports. When we finally left, Sage told anyone who would listen that the Giants were terrible and the Panthers were the best. From that point on, she has constantly asked me who the Panthers play next, and whether they will win.
Being a longtime sportscaster, I try to stay impartial, but I have to admit, this father-daughter bonding time has meant a lot. Since sports take place all year, I look forward to many hours with my princess, watching and explaining, and of course, teaching her to be a good sport as well.