The Fifth Wall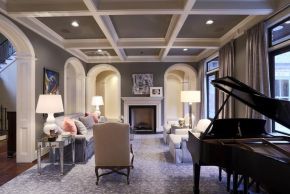 Did you know that in decorating, the ceiling is called "The 5th Wall?" It is a substantial area of the room, so why not give it some attention? It doesn't take a lot of time or money, and the results can be stunning. There are some instances where NOT painting your ceiling actually wastes money. Investing in coffered ceilings but leaving the insides painted white is one such instance. All of that expensive millwork simply gets lost. But once a contrasting color is added, the detail just pops!
Another fun option for adding detail to your ceiling is with stripes. Stripes have been painted on walls for years, so why not spread the wealth and add them to the ceiling? Fair warning – choose one or the other. You DO NOT want stripes on both the walls and the ceiling. That is way too much pattern for one room. Granted, it may be a pain in the neck (literally) to paint the stripes overhead, but at least is is just one area and not all four walls.
If you aren't feeling adventurous enough to paint your ceiling yourself, you can hire a modern day Michaelangelo. No, you won't want another Sistine Chapel, but a lovely mural of a night sky on the ceiling could make drifting to sleep a bit more pleasant. You can also mimic a night sky by painting it dark blue and getting stick-on, glow in the dark stars. I did this in my daughter's room when she was little and she loved it!
Wallpapering the ceiling is another option. If this is the way you want to go, I'd recommend hiring a profesisonal. It is hard enough to get the paper hanging straight and smooth on a vertical surface. When tackling a horizontal surface the difficulty increases exponentially. Gravity is not your friend in this instance!
What color are you ceilings now? I'd love to hear what you've done to accent your ceilings!