The Easiest Halloween Decorations Ever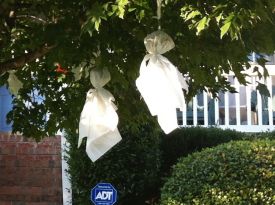 A few weeks ago, I posted about a paver activity that has become a family craft tradition. Halloween ghosts are another one.
These not-so-spooky little spirits are easy to make, and you've probably got everything you need already. This year we made ours using scraps from an old sheet I'd already recycled once for a sewing project.  Our sheet happened to be white, but I don't think anybody ever said that ghosts have to be white. You could use outgrown or old clothes of any color or pattern, as long as the fabric is reasonably thin.
You can also make your ghosts any size. We had smallish scraps, so we made small ghosts. The first step is to cut or tear the fabric into squares or circles—any shape with a solid middle would work. The middle is important because it will become the head. Place a ball of newspaper (or more fabric, Styrofoam ball, polyester fiberfill, a balloon, whatever you have that is or can be round) in the middle of the fabric, wrap the fabric up around the ball, and tie a small strip of fabric in a knot around the "neck" to hold the head in. That's it – do you see ghosts yet?
Next, use permanent markers or fabric paint to draw faces and other details—do ghosts have hair? A necktie, perhaps? It's amazing how quickly they take on personalities once they have faces. Amelia decided that the smallest ones were babies and made ghost families. The moms are the ones with earrings, of course.
We hung our ghosts from the tree outside our house. Once Amelia was done with the faces, I made two tiny snips with scissors on the head of each ghost, and slipped a paper clip through the snips. Using a few last strips of fabric, I looped through the paper clip and tied each ghost to a branch.
And that's it. They've been hanging, undamaged by the weather, for almost three weeks now. I wonder if the ghosts are the reason our birdfeeder has gone untouched for almost that long…
Happy Halloween!
Want more Mess? Visit Melanie's blog, or visit her Etsy shop!