The Changing Age of Moms … and Mom Friends
Find your tribe despite age differences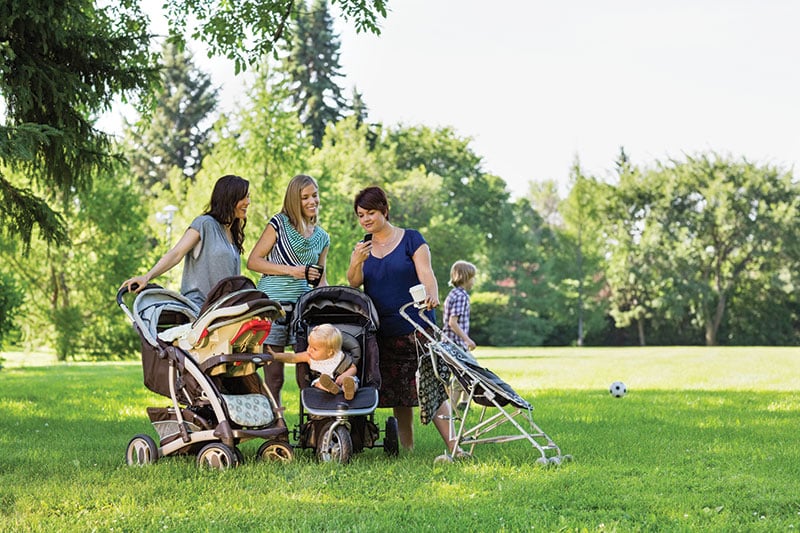 The air is warm and the conversation is flowing. Three mothers stand in the shade of a tree talking, laughing and watching their children play at a local park. The children, all boys from the same preschool class, are 5 years old.
The boys play with the same toys, enjoy the same books and look up to the same superheroes. The moms discuss typical mommy things like their child's sleep patterns, new ice-cream shops and how to sneak extra vegetables into dinner. Aside from their children, the mothers' interests and life experiences vary widely.
This group of moms ranges in age from 26 to 40. One is youthful and slightly less tired looking that the others. One mom was rocking to Pearl Jam while another was being rocked in her mother's arms. One is more advanced in her career with a longer resume. I am somewhere in between, catching all the jokes and references that are too antiquated for one and too hip for the other. But we make it work.
Times Have Changed
It's not uncommon these days for women to choose to have children later in life, but not all women. A report from Pew Research Center shows that the age at which women are becoming mothers has risen across all racial and ethnic groups. In 1994 more than half (53%) of women in their early 40s had become mothers by age 24, but by 2014, this share had fallen to 39%. In 2016, the percentage of women at the end of their child-bearing years (ages 40 to 44) who had ever given birth was 86%, up from 80% in 2006. So women are still having babies, just not as soon as they were 15 years ago.
An Internet search or discussion with an OB/GYN can lead to an overabundance of information (often contradictory) about whether moms should have children earlier or later in life, but one thing is clear: One shoe does not fit all, nor does one age fit every mom.
Dr. Octavia Cannon of Charlotte's Arboretum Obstetrics and Gynecology sees a myriad of pregnant women of varying ages. Some of Cannon's patients marry early and have children sooner.
"I think [younger mothers] adapt to motherhood a little more quickly than the older patients," she says. She observes that older patients are better equipped financially but are physically and emotionally a bit more challenged.
Common Ground
Finding your tribe is hard. Finding your tribe while caring for a little one is even harder. Then what about existing friends: Do they still want to hang out now that you're toting around a new mini-me? Does your child play well with your friend's child? Does the nap schedule of your new friend's kids align with your family schedule? It's complicated.
The wide range of parents' ages can make meeting and befriending other parents difficult, but not impossible. The situation throws us back to the awkwardness that came with dating that older guy in high school or college, except we are no longer swayed by the cool car or varsity team status. As a mom, you walk over to a lady at the playground, questioning your outfit choice, your kids' behavior and whether or not this guardian is a nanny, grandmother or fellow mom. You gather courage, slap on a smile and say, "Hey. You come here often?"
Rest assured, your tribe does not have to be born in the same decade. We do not have to be the same age to connect. Find your tribe, whether they are young, old, tall, short, quiet, loud or any other combination. Truth is, we all wipe the bottoms of babies and the tears of children. We all sniff the heads of newborns and the dirty soccer socks of teenagers. Bonding over our children is something that spans the ages and never goes out of style.
Tiffany Wolff is the calendar editor for Charlotte Parent magazine and mom to two boys, ages 5 and 3.
---
Where to Meet Other Moms
Library Story Time
The Charlotte Mecklenburg Library presents free, interactive story times for babies and children at branches around town. If you are looking to meet other yoga-pant-wearing moms looking to get out of the house, look no further. These story times often attract the same friendly regulars.
MOPS
Find a local MOPS (Mothers of Preschoolers) group. Despite the name, MOPS has expanded its reach to include mothers of children from infant to school-age. Groups meet at various locations in Charlotte, as well as Cornelius, Fort Mill and Mooresville.
La Leche League
Breastfeeding mothers who seek support and companionship can benefit from learning and socializing at a La Leche League of Charlotte. Meetings are open to pregnant women, mothers, babies and children.
Churches
Many churches offer groups for new parents. Some host meet-up or playdate groups where parents are encouraged to arrive tot-in-tow. Other churches host bible studies that provide child care in the nursery, which allows mom or dad some adult conversation.
Meetup
Use technology to your advantage, and check out a Meetup group. There are groups for single parents, stay-at-home parents, moms-only, dads-only, mothers of multiples, playgroups and more.
Gyms
Meeting at the barre has never been easier. Many gyms around town offer complimentary drop-in child care. Meet friends after yoga at a Charlotte YMCA or during a Burn Bootcamp for sweat-session. Take indoor cycling for a spin at Life Time, and take a moment to introduce yourself to another smiling, sweaty face.