The Benefits of Outdoor Play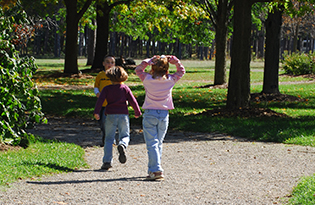 It's no coincidence that "great" often modifies "outdoors." But do today's kids know why?
In the 1970s and 1980s, the average child enjoyed more than two hours of outdoor play each day, according to an April 2013 study conducted by JCB Kids, an online constructive play resource center for children and adults. Today's kids spend as few as 7 minutes engaged in unstructured outdoor play per day, while spending an average of 7.5 hours in front of electronic media, according to the National Recreation and Park Association. Homework and extracurricular activities also limit unstructured playtime outdoors.
And those aren't the only numbers that are cause for alarm: A meager 10 percent of children between age 13 and 18 say they spend time outdoors every day, according to a nationwide Nature Conservancy poll taken July 28-Aug. 4. Compare that to statistics published in the Spring 2011 issue of American Journal of Play, which state that 70 percent of the 830 U.S. mothers surveyed said they played outdoors daily as children, while only 31 percent of their children play outdoors daily now.
SEE ALSO: 6 Old-Fashioned Outdoor Games to Teach Your Kids
THE CULPRIT

Lack of interest in and access to nature keeps kids indoors, according to the Nature Conservancy poll. Kids ages 13-18 who responded to the survey reported discomfort with bugs and heat as a reason to stay indoors, and 61 percent blamed a lack of natural areas near their homes.
Parents who worry about "stranger danger" or that their kids could be harassed, attacked or even abducted by a stranger while playing outdoors, may not even realize they also share some of the blame for why kids are staying indoors more often nowadays. Other parental concerns include traffic dangers, kids getting hurt or gaps in supervision.
Compelling distractions such as the new "Legend of Zelda" game or the latest episode of "SpongeBob SquarePants" may share a good portion of the blame. On weekends, kids average more than seven hours a day in front of an electronic screen, according to the National Wildlife Federation. By the time a child attends kindergarten, he or she is likely to have watched more than 5,000 hours of television. That's about the same amount of time it takes to earn a college degree.
THE BENEFITS OF OUTDOOR PLAY
Greater Health
As if the reduction in outdoor playtime for today's generation of kids isn't alarming enough, consider the fact that Center for Disease Control and Prevention data shows obesity rates have increased dramatically over the past 20 years, antidepressant use has increased by 400 percent since 1988 (kids are not exempt), and parent-reported ADHD diagnoses have been on the rise since the 1970s. Many researchers wonder – could there be a link between nature deficiency and these significant health statistics?
Correlation doesn't imply causality, but research strongly suggests that exposure to nature can have a positive effect on a child's health and development. A 2005 study by the American Medical Association concluded that children given free and unstructured opportunities to play outside will be "smarter, better able to get along with others, healthier and happier."
In the Nature Conservancy study, 90 percent of kids who spent time outside reported that being in nature and taking part in outdoor activities helped relieve stress.
And then there are the well-known benefits of physical activity – whether it takes place indoors or outdoors. Research from the U.S. Department of Health shows that engaging in 150 minutes a week of moderate-intensity aerobic activity, such as brisk walking, consistently reduces the risk of many chronic diseases and other adverse health outcomes.
SEE ALSO: 4 Ways to Enjoy the Outdoors This Fall
Greater Intelligence
Len Saunders, best-selling author and motivational speaker in the fight against childhood obesity, says kids who play on a consistent, regular basis perform better in school. A group of 2,000 teachers surveyed by the National Wildlife Federation in 2010 agree. Of those surveyed, 78 percent feel students who spend time in unstructured outdoor play are better able to concentrate, and 75 percent feel that these students are more creative and better problem solvers. Kids who spend time in nature also have higher test scores, do better in science, and play more cooperatively, according to the teachers surveyed.
Evidence shows convincingly how beneficial it is for children, so give yours plenty of opportunities to play outside, whether they are building forts and dens, climbing trees or making daisy chains. A healthy dose of dirt can go a long way.
Carolyn Caggia is a junior at N.C. State University majoring in environmental science with a focal area in journalism.