The Benefits of Obstacle Course Camps
Conquering challenges like a ninja warrior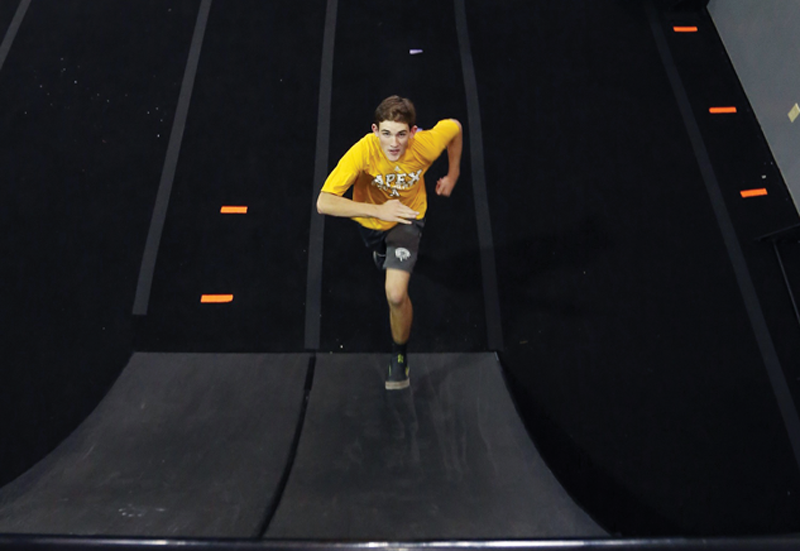 STOP! This article is only for parents who want their kids to have fun, grow in athleticism and overcome obstacles in life … literally.
Parkour and ninja-style obstacle course programs offer these benefits, and are trending around the country. This movement, led in part by the popularity of shows like "American Ninja Warrior" and "Spartan Race" (both air on NBC), doesn't seem to be going away anytime soon. Several facilities have popped up in North Carolina to offer kids and adults safe environments in which to learn, train and play.
Raleigh mom Betsy Brown, whose children attend year-round schools, discovered Warrior Tech OCR (obstacle course readiness) in Morrisville while looking for a track-out camp. "My kids are athletic and active and they love the show, 'American Ninja Warrior,' so we gave it a shot."
The verdict was unanimous with her 12-year-old daughter and 9-year-old son. "They loved it!" Brown says. "They came home exhausted and used muscles they didn't know they had." She immediately signed them up for Warrior Tech OCR's summer camp to continue the positive experiences.
---
Why Choose an Obstacle Course Camp?
"There are countless benefits to all of these activities," says Renato Varga of Kinetic Heights in Charlotte. "Ninja warrior and obstacle courses provide a unique, exciting and, most importantly, fun way to exercise. Oftentimes the obstacles are awkward and different enough from the typical movements people are used to during regular exercise, resulting in a workout that hits way more muscle groups."
Ninja warrior training may also be the perfect athletic outlet for kids who haven't found their place in traditional team sports. "Ninja as a sport requires a great deal of persistence and thoughtfulness," says David Gordon, owner of USA Ninja Challenge in Durham. "Many of our successful students thrive on the individual challenge of ninja."
Brown says Warrior Tech OCR's instructors encouraged her kids to take a teamwork approach to working together. "It was fun to watch them talk to each other about how they got better at things or how they kept messing up at a certain spot," she says. "They'd give each other tips to try — and encouragement."
Varga agrees that one of the main benefits of obstacle course training is how it encourages cooperation. "While these activities aren't quite team sports, they allow for training with peers in a manner that teaches that cooperation and teaching are better for everyone — not competition and showing off," she says.
As challengers approach each obstacle, Warrior Tech OCR's "Chief Kid Wrangler," Justin Fitzgerald, explains different potential tactics, and encourages adaptation and watching those who go before them to help them learn.
When children complete obstacles they thought they couldn't, or that they may have failed at achieving in the past, they gain a sense of confidence and realize that with hard work, they can overcome difficulties — "which could be anything from balancing across a scary beam, making a seemingly impossible jump … or (completing) a large school assignment," Varga says. "Any obstacle can be overcome — what matters most is not giving up."
It's also important to expose children to a wide variety of activities so they can find their passion. This an essential element of the camp experiences at U.S. National Whitewater Center in Charlotte. Some of the youth camps there incorporate the center's Long Point Obstacle Course and high- and low-ropes courses.
"We believe that everyone has the innate desire to get outside and play, and we believe that looks different for everyone," says the center's brand manager, Eric Osterhus. "In this day and age where everyone has a device in the palm of their hands, we see ourselves as a breath of fresh air in that you can tap into adventure that you can't necessarily experience in day-to-day life."
---
What to Look For
Fitzgerald says a supportive atmosphere, good coaching and thorough training are musts. Warrior Tech OCR also includes discussions on muscle groups, nutrition, technique and adaptability.
It's also important to make sure camp activities are appropriate for your child. At the U.S. National Whitewater Center, kids are exposed to new challenges based on their age, skill level and ability.
Varga emphasizes the importance of a good coach and variety of obstacles. "A truly dedicated, passionate and qualified coach can teach an enjoyable and meaningful lesson with just a few simple boxes," he says. "Ideally, you want to find somewhere that has a wide variety of obstacles, passionate and qualified instructors, and most importantly, is fun!"
Kinetic Heights and the U.S. National Whitewater Center in Charlotte; Warrior Tech OCR and USA Ninja Challenge in Durham; and Enso Movement, a parkour training facility with locations in Durham and Raleigh, all offer youth camps, open play sessions and parties. Most of the camps offered at these facilities are suitable for children as young as age 5, with more difficult camps available only for older children and teens.
Worth the Risk?
These challenges are not without risk. Obstacles are high, difficult and unique. It's imperative that the camp you choose puts a premium on safety and instruction.
"Make sure that they are teaching your child how to do these obstacles, not that they're just throwing them in to 'play,'" Fitzgerald advises.
At Warrior Tech OCR, each morning of camp begins with a warm-up to stretch and strengthen the muscles they will use that day. Coaches are also trained in spotting kids and teaching them how to fall safely.
Aware of the potential for injury, Brown believes these opportunities are worth taking advantage of.
"Of course there is some kind of risk," she says. "But if you have a kid who is active and likes to challenge themselves, I think it's a great environment."
---
The Author's Ninja Experience
Thanks to my family's obsession with "American Ninja Warrior" (Jessie Graff rules!), our family decided to take Warrior Tech OCR's challenge for ourselves.
I took my three little ninjas, Maggie (12), Ben (10) and James (8), to meet with the facility's "Chief Kid Wrangler" Justin Fitzgerald. Admittedly, I was a little nervous because my three are very different from one another, and I wasn't sure how they'd react if one child could complete obstacles while the other two couldn't (or vice versa).
I quickly, and pleasantly, realized my entire premise was wrong. Obstacle course training programs are not about proving what you can already do — they're about learning how to push yourself to try new things.
Fitzgerald gave us a peek into how a day of Warrior Tech OCR's school-age camp runs by showing my kids three different techniques to try with the first obstacle: the quad steps. "It's not about getting it perfect every time, it's about finding out which technique works best for you," he told them.
In less than an hour, each of my kids succeeded in beating an obstacle they had failed to achieve on their first attempt. Although they were thrilled when they reached a new height on the warped wall or caught a new ring in the swinging apparatus, they never became discouraged when they fell.
"You have to be OK with failing here," Fitzgerald says. "Failing here is different from failing in other places because you've probably never done anything quite like this — and they are really, really hard."
---
Learn More
Enso Movement (Raleigh and Durham)
Kinetic Heights (Charlotte)
Warrior Tech OCR (Morrisville)
US National Whitewater Center (Charlotte)
USA Ninja Challenge (Durham)
---
Mandy Howard is a freelance writer and mother of three in Raleigh.