The Ballantyne Hotel Unveils New Afternoon Tea Service
Get the details on what it includes—and special summer programming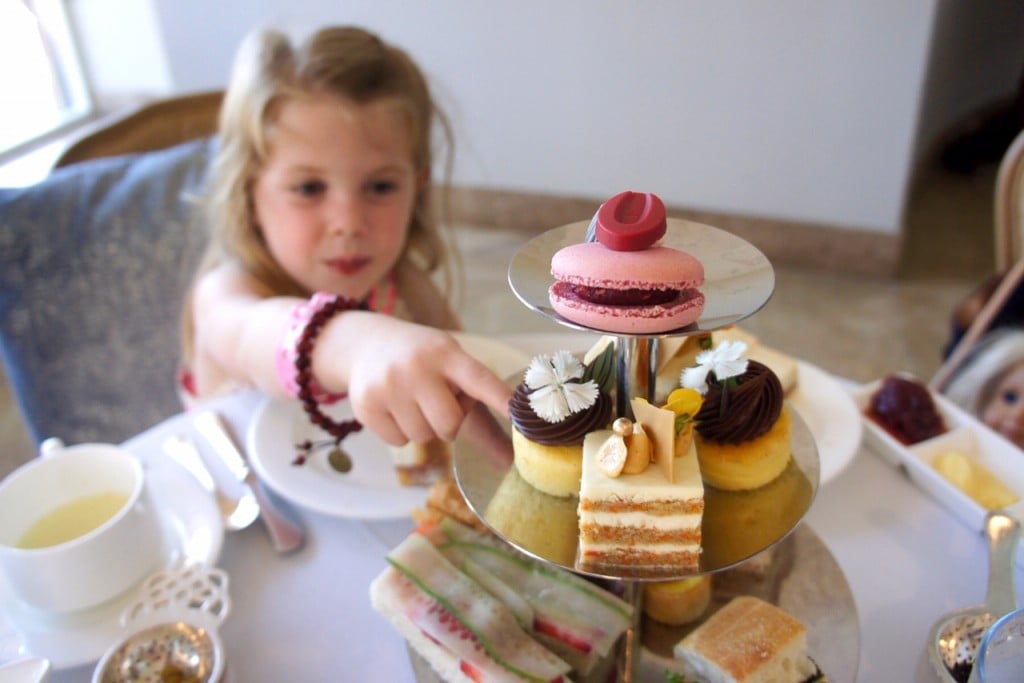 Over the weekend my daughter and I paid a visit the Ballantyne Hotel to try their new Afternoon Tea Service. The resort recently partnered with Rare Tea Company of London (which just so happens to be the preferred tea for the royal family), so in addition to afternoon tea, guests can order handcrafted tea cocktails and desserts elevated with the English tea.
Afternoon Tea is offered Thursday through Sunday from 1 p.m. to 4 p.m. year-round, and you can file this one under "special occasion" activities. It's $42 per guest, but it's extremely filling for a "light meal" that England's upper class traditionally eats between lunch and dinner. It will also leave you with a splendid sugar buzz.
For my little girl it was nirvana, complete with white table linens, pink napkins, delicate flower arrangements, and a three-tier dessert stand layered with bite-sized confections. All that was missing was Princess Charlotte herself.
After our server, Gerry, took our tea selections (chamomile for Brynn, Wild Rooibos for me), she explained that the menu changes seasonally, so guests can expect a slightly different spread each time. But on this spring day, pastry chef Noel Gogg prepared a mix of tea sandwiches and savories, sweet pastries, and scones.
On the bottom tier were caprese sandwiches, salmon and dill on croissants, and mini quiches. In the middle, mango carrot cakes and chocolate cupcakes. On top, chocolate truffles and strawberry macaroons. We also got a small plate arranged with citrus tarts and pretzel caramel scones and a side of clotted cream, lemon curd, and strawberry jam. And for Brynn, Gerry brought out some crustless peanut butter and jelly sandwiches, just in case the other savories didn't suit her three-year-old palate.
Starting this summer, the resort will offer special afternoon teas that include Summer in the Carolinas Tea from June 20–23 and July 18-21; Alice in Wonderland's Mad Hatter Tea from August 22-25; and Pearls and Champagne with Jane Austin Tea from September 19-21. These events are geared toward girls ages four to 10, but let's be honest … they're fun for anyone who grew up playing dress-up and hosting tea parties.
If you have a bit of time to linger, check out the recent renovations to the hotel. There's newly designed guest rooms, an updated lobby lounge with a fireplace and plush couches to read or sip some coffee, and The Ryal, the hotel bar with a balcony that overlooks the golf course.
It's just a 20-minute drive from uptown, but once you set foot in the grounds of the Ballantyne, it's an instant vacation. And if you care to treat yourself to tea party this summer, put on your pastels and bring your best table manners, because it's the most authentic afternoon tea you'll find in Charlotte.