The 10 Best Trails in the Old 96 District
In Partnership With Old 96 District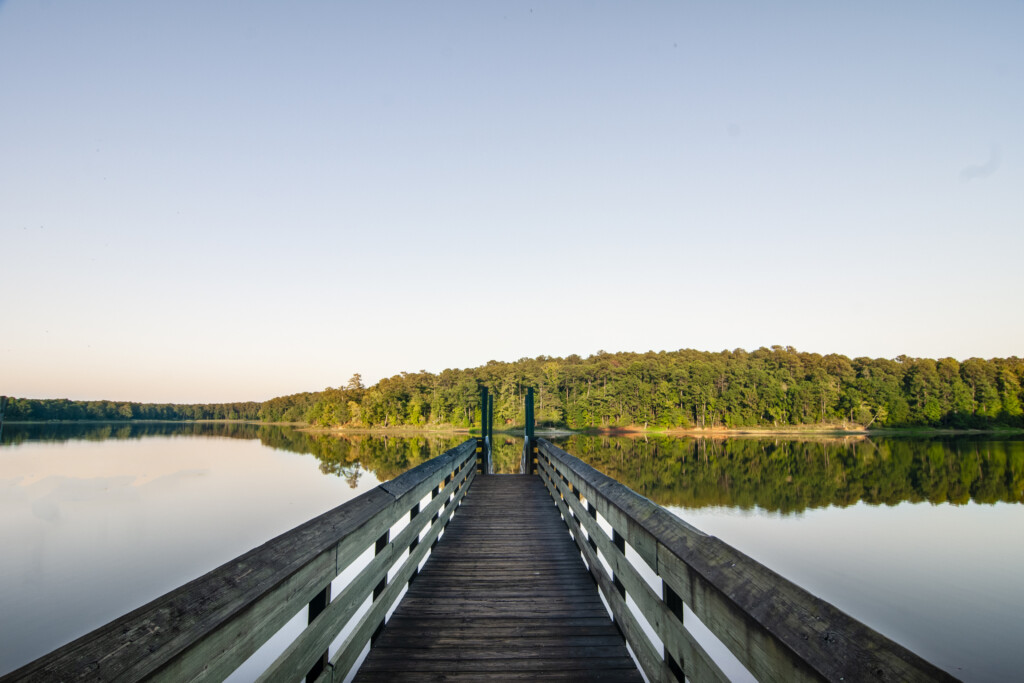 South Carolina's lush Old 96 District—encompassing the counties of Abbeville, Edgefield, Greenwood, Laurens, and McCormick—is a hidden gem for outdoor enthusiasts and the perfect spot for your outdoor adventures this summer. Home to 3 lakes, 6 State Parks, and over 250 miles of hiking and biking trails, the beautiful views and fresh air are easy to find. Check out this list of the Ten Best Trails in the Old 96 District, then plan your getaway today and discover all the unexpected wonders that await.
Best View
Lakeview Trail—Hickory Knob State Resort Park
Length: 6.7 Miles
Difficulty: Difficult
This is a trail optimized for mountain bikes, but for those who are up to the challenge, the reward is oh-so-sweet! Experience panoramic views of Lake Thurmond from promontories along the hillsides. Make a weekend of it and stay the night in Hickory Knob, the only State Resort Park in South Carolina.
Best Picnic Spot
Lake Rabon Park
Length: 2.5 miles round trip
Difficulty: Easy
This hike has lots of outdoor activities nearby, including a boat ramp and fishing pier. Bring a picnic for a special meal in a picnic shelter or on the grass by the lake!
Best for Endurance Training
Forks Area Trail System (FATS)
Length: 34 miles total (made up of different loops)
Difficulty: Moderate
A short trail introduces the terrain of the FATS before splitting into different loops, each a different length ranging from 4 to nearly 7 miles, or 34 miles total. Hikers can pick which loops they feel most equipped for, adding distance as their endurance grows. This system makes it easy to build your endurance without having to travel to multiple trails.
Best for Newbies
Beaver Run Trail—Hickory Knob State Resort Park
Length: 2.5 Miles
Difficulty: Easy
This trail is a great starter trail.It's the perfect length to feel accomplished, but not totally wiped out. The trail dips down to the edge of Lake Thurmond and enters a floodplain forest, with a variety of plant life to entice those still learning the local flora.
Best for Families
Cherokee Path—Ninety Six National Historic Site
Length: 1.5 Miles
Difficulty: Easy
The Cherokee Trail at the Ninety Six National Historic Site in Ninety Six, SC is more than just a hiking trail, it is the site of a very important Revolutionary War battle at the once-proud Star Fort. The trail–once a direct path for traders and travelers– now weaves through these historical landmarks. Younger hikers can explore as they go and get up close with history, helping them stay engaged throughout the hike.
Best Town Trail
Ten Governors Rail Trail
Length: 1 mile linear, 2 miles round trip
Difficulty: Easy
Starting with a boardwalk over Slade Lake in Edgefield, SC, the Ten Governors trail invites visitors to wander past historic homes and monuments to each of the ten South Carolinian governors that hail from Edgefield county.
Best for Plant Lovers
Stevens Creek Heritage Preserve
Length: 1.9 mile loop
Difficulty: Moderate
A companion to a much longer and more difficult hiking trail, the Stevens Creek Heritage Preserve is home to fifteen rare and several endangered flowers and plants. The area's unique bedrock makes it one of only two places on Earth where the Miccosukee Gooseberry grows natively.
Best Historic Trail
Battlefield Trail—Musgrove Mill State Historic Site
Length: 1.5 miles one-way
Difficulty: Easy
This trail begins at an ADA boardwalk and leads to an overlook at Horseshoe Falls. Wander alongside a Revolutionary War battlefield, with interpretive waysides sharing the story of the 1780 Battle of Musgrove Mill. If you want even more history for your fix, the British Camp Trail is another good trail.
---
Want even more trail options? Visit our website at VisitOld96SC.com for more trails, stays, and things to see in South Carolina's charming Old 96 District. Come discover the unexpected wonders!