Telemedicine for Today's Healthy Families
How telemedicine is helping parents and children from the comfort of home.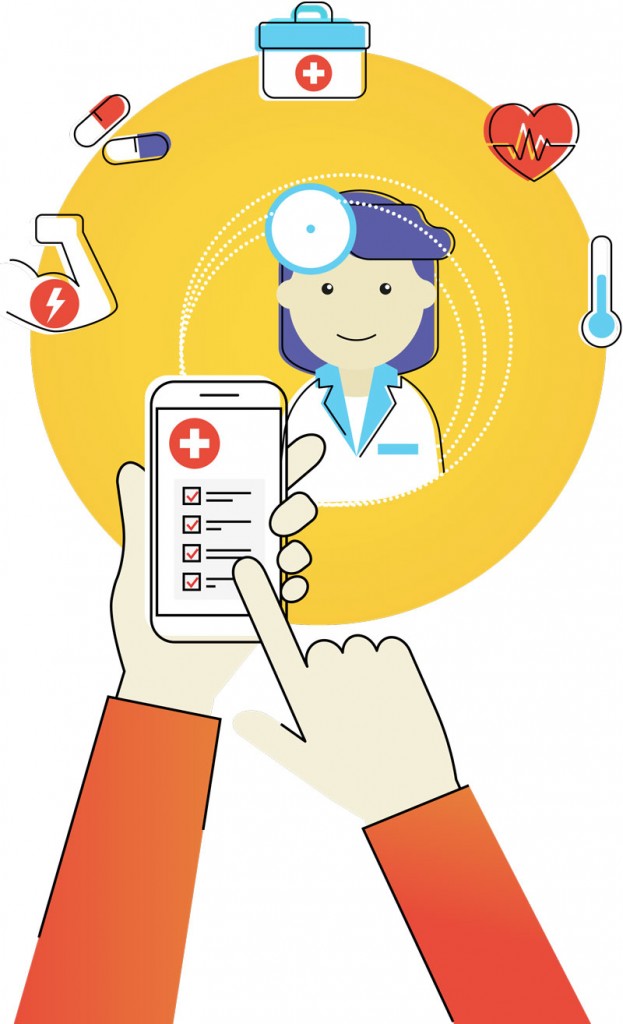 You are running around trying to get the kids out the door for school when your youngest walks up to you and vomits on the floor. Your day quickly takes a turn. Is it the stomach flu, a cold or something worse? Should you call a doctor or just send your child back to bed and wait a few hours? Either way, they are not heading to school and you are calling the office with a sick child scenario.
Next, you call the doctor's office, to learn you can be seen at 2 p.m. Now your husband needs to cut his day short to meet your other children coming home from school at 3 p.m. because there is no way you can be back from the doctor's office in time.
After carrying your fevered child to the doctor, and spending time in the germ-riddled waiting room before waiting longer in the examination room, you finally see a doctor. Within five minutes, the doctor tells you it's likely a virus and to take your child home, administer Tylenol and liquids, and wait it out.
If you have young children, you've likely experienced the stress of a day like this — not knowing how long an appointment may take, needing someone to pick up other children from school, a long line at the pharmacy and an undetermined amount of time off work. What if you had the option to take less time off work, save money, let your child stay in bed and not have to scramble to find care for other children?
Introducing Telemedicine
Telemedicine is a tool that allows patients to have a real-time doctor visit from the convenience of home — or anywhere — via a mobile device or computer. It is an extension of services provided by primary care doctors intended to handle situations like common and easily treated illnesses, and follow-up visits for chronic situations that need regular monitoring. Many parents already have at-home technology to monitor and track their health. Telemedicine is the next step in medical care for helping keep a busy family healthy.
By partnering with individual telemedicine services, physicians are able to integrate software programs into their facilities that enable virtual visits. Carolinas HealthCare System partnered with AmericanWell telemedicine service in 2010 to create Virtual Visit that provides online access 24 hours a day, seven days a week to the system's medical providers using a tablet, smartphone or laptop. Download the app by looking for Carolinas Healthcare Virtual Visit in your device's app store. It is free to use and works with iOS and Android platforms.
How Does it Work?
Many telemedicine services require a scheduled appointment. CHS Virtual Visit does not, however, children ages 3 and under are not eligible to participate. Children ages 4 to 17 and adults can speak to a provider in real time about the following common illnesses:
• Colds and flu,
• A sore throat or Strep throat.
• Urinary tract and yeast infections.
• Diarrhea or constipation.
• Bronchial, upper respiratory and ear infections.
• Insect bites and skin conditions
• Conjunctivitis and similar bacterial infections.
• Fever, headaches, and temporary
joint aches.
• Urgent medication refills.
It is free to register with the service, but you need to enroll before making a video call. A form of photo identification like a driver's license, passport, military or a state-issued card is needed for enrollment. Once enrolled, your Virtual Visit begins with a few short questions about the reason for the visit, and a brief session with a representative who confirms personal information and symptoms.
Prepare ahead of time by making a list of questions you have for the doctor, including:
• Symptoms. Note when symptoms began, and any other related information since your illness started.
• Temperature. Take a temperature reading 15 minutes prior to the consultation.
• Pharmacy information. Have the telephone number and address of your local pharmacy handy for any needed prescriptions.
• Insurance. Call your health insurance company to see if your visit is covered. Being prepared makes the appointment go more quickly.
After being connected, a medical professional evaluates your symptoms and discusses treatment options. The appointment typically lasts about 10 minutes.
Be prepared to pay for your Virtual Visit with a credit card at the time of the visit. Insurance coverage depends on your specific plan and benefits. You are subject to copays, coinsurance, and deductibles as described by your insurance plan. Calling your insurance provider before using the service helps prepare you for any possible out of pocket costs.
What About Chronic Issues and Mental Health?
Telepsychiatry visits can take place in a primary care physician's exam room to aid in a diagnosis. Assessments happen in real time for adults and children who may be suffering from depression, anxiety and ADHD. Insurance coverage is the biggest barrier. Insurance may cover nutritional consultations, prescriptions and paramedicine for lab work, but not in-home virtual mental health visits.
In 2014, Carolina's HealthCare created a team of psychiatrists, pharmacists and other behavioral health specialists to work with primary care physicians to recognize and understand the link between physical symptoms and mental illness. There are 24 participating sites, including four pediatric clinics.
Parents of children needing help with short-term goal planning or behavior modification are really comfortable with the process, says Kate Rising at Charlotte Behavioral Integration, a participating clinic. There is no additional cost for telepsychiatry service during a primary care exam appointment, and 24-hour phone support allows providers to work around a child's schedule. Medical information from the visit is updated within the hospital system so the primary care doctor can follow up when necessary.
Telemedicine and telepsychiatry services can also eliminate the need for prescription appointments. A doctor can electronically send prescription requests to a local pharmacy with the exception of controlled medications.
Can I Get Emergency Care?
The short answer is no. Telemedicine is not designed for serious emergencies. Telemedicine, however, operates around the clock and can save time and money for visits that are not truly urgent, but need attention after doctors' offices are closed. This benefits medical facilities as much as the patients. The American Academy of Family Physicians has already realized a 22 percent decrease in the number of visits children are making to the emergency room. The average telemedicine video chat costs $75, versus $750 for an emergency room visit.
What About Privacy and Protection of Medical Data?
Telemedicine video consultation technology must meet federal and state requirements within the hospital systems and services to ensure safety and privacy. These regulations include the Health Insurance Portability and Accountability Act (HIPAA) of 1996. Virtual Visit uses patented technology to guarantee every visit is HIPAA compliant and secure.
The Bottom Line
Studies show that parents and patients feel the care they receive is just as good as the care they would have received in person. It reduces missed days at school and work, reduces travel time and costs, and the cost is often the same or less. It also allows a doctor to more quickly provide services than before while keeping the waiting room clear for patients with more serious conditions that need to be seen in person for physical tests and observation.
Adriana Vermillion is a mother of two who is pursuing her PhD in psychology as she continues to work in the field as an advisor and trainer for parents, educators and professionals. She focuses on the topic and expertise of potty training, including children with special needs and families with multiples.