Teaching Kids to Self-Advocate
A teacher, a counselor and coach share the skills kids need to succeed.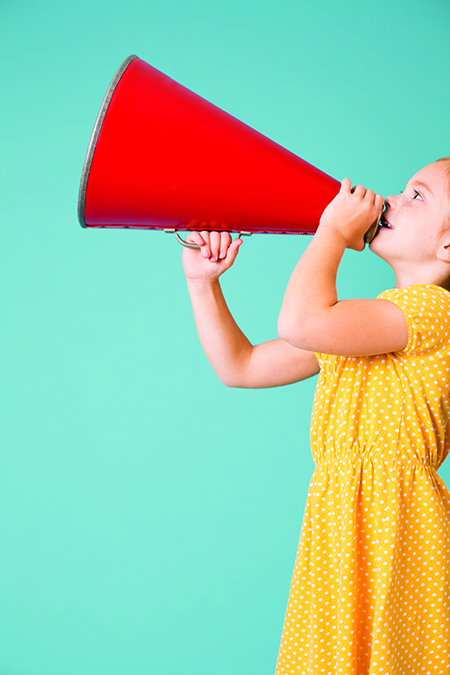 Before I had children, I worked in the dean of student's office at Queens University of Charlotte. My job was to help students achieve personal and academic goals. The most successful students were able to discuss their ideas, use campus resources and identify opportunities. At the time, I knew these students were special, but I did not fully realize the importance of the skills they possessed. They came to college prepared to ask questions and make sure they got the most out of their college experience.
As a parent, I know how easy it can be to talk for my children and solve their problems. It's often quicker, neater and gets the job done my way. But like those college students, I want my boys to know how to seek out what they need, and it's my job now to teach them how to speak up for themselves in order to achieve success in school, careers and relationships.
Why Self-Advocacy is Important
For 21 years, Ernest Jeffries has advised students through faculty issues and personal situations as the associate dean at Davidson College in Davidson, North Carolina. He believes teaching children to self-advocate at a young age is key to achieving success in later years.
"It is hugely important," Jeffries says. "We are in an era where parents are over-involved in their children's lives. When the parents are like that, then kids come to college and they have no clue how to advocate for themselves."
Shona Parker, a school counselor at Randolph Middle School in Charlotte for 24 years, has watched students become more self-aware as they learn how to ask for what they want or need. For example, one of Parker's students was taking band as an elective and couldn't fit an art class into his schedule. Because he had his interest in art with Parker, she was able to pass on art opportunities outside of school to this student.
"It [self-advocating] is a lifelong skill. The sooner they start doing it and the more they practice the skills, the better they will get at them," she says. "Knowing yourself and speaking up for yourself doesn't make you an aggressive person, it just means you are self-aware. You are just asking for ways to get help or get what you want or need."
---
Teaching Kids How to Speak Up
Parents can encourage children to advocate for themselves from the time their kids learn to speak. By simply learning to introduce themselves, children build confidence. Identify daily opportunities at the grocery store, on the basketball court or at summer camp for children to speak up, build relationships and make connections.
Once in school and while participating in extracurricular activities, children should begin to develop relationships with teachers and coaches before there is a problem. Communicating face-to-face with people, especially adults, is a necessary life skill.
Parker recalls a situation where she was able to help a student obtain a scholarship to a field trip because the student was confident enough to come to her directly about his family's financial situation. "If he hadn't come to me privately, I could not have accessed the money for this kid," she says.
Technology makes it easy for parents to send a quick email or text to a teacher to find out when homework or projects are due, but a child's age, maturity and individual personality should determine how much parental involvement is needed. When children come to parents with a problem, Jeffries suggests asking the child what he or she has done so far to handle the situation. If the child doesn't know what to do, parents can walk him or her through the steps that need to be taken. Jeffries also advises students to write down a list of questions and role-play the conversation.
Children on sports teams can be their own advocates, too. Romel Lightbourn, associate director of NC Elite Volleyball Club in Morrisville, North Carolina, has observed that children are sometimes intimidated by their coach and feel afraid to speak up about an issue. Lightbourn recommends teaching children to ask questions like: What is my role on this team? What do I need to do to get better? How can I earn more playing time? Encourage your child to write down questions and bring a pen and paper to the conversation to record any information. "It gives them the opportunity to grow as an individual," Lightbourn says.
When a child builds connections with others, he or she find allies in addition to their parents, who can help navigate the system. These people can later become references for jobs or college applications.
---
When Parents Need to Step-In
There are times when parents need to be more involved with their child's advocacy. If a child has special education requirements, medical issues or learning disabilities, a parent's understanding of the situation may provide a more precise interpretation of these issues, but that doesn't mean the child can't be part of the conversation.
"Sometimes a child does not interpret all the information correctly or their perception may not be accurate," Parker says. "Sometimes the child may not remember all the information." Parents can help provide clarification in situations like this.
If a child has self-advocated, researched options and still feels stuck, a parent can help out by following up with a teacher or coach. Jeffries has done this on the college level when a student is involved in a dispute with a faculty member.
"If they are at a place where they really are not feeling comfortable, we will set up a meeting and I will sit in on the meeting. I still do not speak for the student; I am there for support."
---
6 Ways Kids Can Self-Advocate
The counselors, coaches and other professionals quoted above offer the following tips for how children can advocate for themselves:
Understand your strengths and needs. Be able to talk about them.
Learn how to ask questions. Practice with your parents.
Know your resources. Find out where to get help and who can answer your questions.
Build relationships. Let teachers and coaches know who you are.
Use the tools provided. Be connected to the school communication and grading system.
Share your dreams and goals. Share what is important to you.
Vanessa Infanzon is a freelance writer. Follow her on Instagram and Twitter @morethanVMI.