Teaching Kids About Work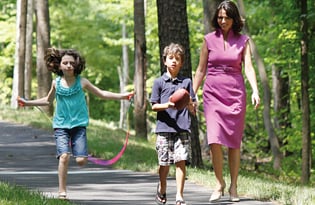 If you're a parent who's blessed with your dream job, you're fortunate. Having the best of both worlds is enviable. But let's face it, even if you love your career, certain things are beyond your control, and every day isn't always a winner. So, how do you handle the rough days and then walk through the door at home to face more demands and responsibilities? Here are some tips from experts and parents.
Avoid Venting
Achieving work-life balance is a common quest for parents, and although they should be honest and realistic with children when they ask questions about work, they also need to remain positive and have a good attitude in order to send the right message. "I think it's OK if parents occasionally describe some of the frustrations from their day, or talk about the problems at work — that can model problem-solving skills for their children," says Dr. Kristen C. Wynns, a licensed psychologist in Cary. "But, it would be problematic if they consistently came home from work venting, because children often become anxious about situations that they can't do anything about." She adds, "Venting also models for children that work is an unpleasant phenomenon."
Stay Positive
How parents talk about work can impact how children view their own work — be it homework, chores or, eventually, their own career. "Kids need to know that even if we love our job, there are some aspects of work we'd rather not have to deal with," Wynns says. "But we have an important role in modeling for our kids that it's important we have a positive attitude, that there are always going to be parts of the job that we'd rather focus on, but it's not realistic any job is 100 percent enjoyable. Parents can really teach their children valuable lessons in the way they talk about their jobs."
Angie Roberson of Greensboro is a single mom of a 6-year-old son. During dinner each night, they discuss his school day and sometimes her job. "We talk often about how he goes to school to learn, and I go to work to earn money for our family. I think it is helpful for our children to know that sometimes our work is really hard, and sometimes it's not always fun, but you get through that."
Roberson, who is assistant coordinator of the UNC Greensboro Child Care Education Program, also schedules time each night to play with her son and not discuss work, answer her cell phone or check e-mail.
"In my family, we set a time in the evening after my son gets his homework done after dinner, that is our time to play. It may seem very regimented, but I've learned it helps to schedule that time," she adds.
Manage Stress
A brief post-work de-stress ritual can be helpful, too. "A lot of parents jump right from a hectic day at work into doing their second shift as a parent," says Wynns. "On the way home, listen to relaxing music or imagine some relaxing visual imagery. As soon as you get home, change clothes, have a cold drink and sit on the porch for a few minutes if you can. To have a little buffer between work and home is very important; it can help re-energize parents and recharge their batteries."
Getting organized and planning ahead also can help reducing stress levels. Wynns suggests holding a Sunday night family meeting to go over the family schedule and plan meals for the week ahead.
And be sure to take good care of yourself. "Make sure you have a healthy diet and make time for exercising, even if it's just a 10-minute walk," Wynns says. "Deep-breathing exercises are great for relaxing, and you can do those at your desk or in the car. Try to integrate some relaxation activities throughout the day, so things don't build up to a point where they're overwhelming."
Prioritize and Build a Support System
Caroline B. McCloud, a licensed social worker in Charlotte, says managing workplace stress is one of the biggest challenges parents face. "Research shows that the emotional well-being of children is strongly linked to their parents' mental health. If you're a parent who's stressed out, chances are, your children will be stressed out too," she says.
McCloud suggests parents prioritize their to-do list. "Decide what has to be done today and what can wait until tomorrow," she says. "A lot of people I see are Type A personalities, and if they don't get everything done on their list, they feel like a failure. But everything is not do-or-die."
She adds, "There is so much pressure on parents today. It's important to know that it's OK not to be perfect." And just because you feed your child a peanut butter-and-jelly sandwich every once in a while, it doesn't mean you're a bad parent. "Sometimes you have to roll with the punches," McCloud says. "You don't always know what's going to happen from day to day. It's about making the best of the time you have with your children."
McCloud encourages her clients to build strong social support systems — whether they're friends, extended family, people at church or even co-workers.
Unplug
One of the biggest challenges faced by working parents is knowing when to disconnect from the electronic world. "With all of the advances in technology we've had, now that we've got e-mail on our phones and texting, there's this ambush of being connected with the outside world 24/7, if we allow it," says Wynns. "Try to leave work at work. Turn off your cell phone, or don't check messages until after the kids have gone to bed. That's a struggle, but it helps to not always be on-call, so to speak, with your work."
Make a Change
Dan Quesnel of Winston-Salem practiced in law firms for eight years until 2007, when he decided to change his path and become a teacher, coach and legal counsel at a private school in order to spend more time with his family.
"I was working with a friend whom I really liked at a law firm once, and he told me how fortunate he was that he got to see his children on the weekends, because his own father had worked so much, he didn't get to see him very often," says Quesnel. "I thought, it's not enough to just see your kids on the weekends. I want to see my kids every day."
Now, his 6-year-old daughter attends the school where he works, while his wife, Ellyn, takes care of their 4-year-old son at home.
She agrees that it was a good decision for her husband to change jobs. "Even little things like Dan being able to go have lunch with Emily at school, or being able to see her school programs, have made a big difference."
Tammy Holoman is a Winston-Salem-based freelance writer.