Teacher Talk: Speech Delays and Homework Distractions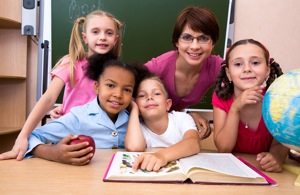 Q: We have a great deal of concern about our son's speech. At his third birthday party, compared to the other 3-year-old children, his vocabulary was very limited. He only says about 10 words and uses "mom" for everything he needs. And he calls everyone in our family "mom." We do not know how many words he should know by this age. Would you please point us in the right direction?
— Delayed Speech
A: Between 2 and 3, most children will acquire a vocabulary of about 450 words. Your son has not reached this milestone in normal speech development. Have you addressed your concerns with his pediatrician? You can contact your local school district's director of special education for a diagnostic screening at no cost to you through the IDEA (Individuals with Disabilities Education Act) process called Child Find. This will help you see if a delay actually exists.
You also can find out about the national special education program for children ages 3-5. Section 619 of Part B of IDEA defines the preschool program, which guarantees a free appropriate public education to preschool children with disabilities. Under this program, your son might be eligible to receive services that will help him improve his speech before he enters kindergarten. Your local director of special education will have information on this program. You also may also wish to contact your state's 619 coordinator to learn about your rights, as well as the local programs and services available to you. Visit www.NECTAC.org to find the contact information.
The following Web sites also will provide you with more information about opportunities for children with special needs: www.ld.org/ideaguide, www.ideadata.org and www.naeyc.org. And, the NECTAC (National Early Childhood Technical Assistance Center), supported by the U.S. Department of Education, also serves infants and toddlers with special needs and their families. Every infant or toddler has the opportunity to be assessed and a written individualized education plan can be developed if needed.
Q: Even though my children, who are in the second, fifth and sixth grades, have desks in their rooms, they like to study at the kitchen table when I am cooking dinner. They seem to get a lot done; however, I think it's too distracting, and they should be studying in their rooms. What is your opinion?
— Busy in the Kitchen
A: Every child has his or her own learning style. Some children can concentrate even though the radio or television is on and family members are talking, while others need total silence if they are to do any homework. Most study-skills experts suggest students study in a quiet area off the beaten traffic pattern; however, this doesn't work for everyone.
If your children enjoy studying together and are getting good grades, then it is a good choice for them. Besides, you clearly can see if your children actually are working and easily can answer any appropriate questions they might have about their assignments. Plus, they do have a set routine for studying the same time every day, which is a part of having good study skills.
Readers: Charlotte Parent wants to hear from you about your family's successful homework routines. Send us your name, city and the grade levels of your children (rising for 2010-11), along with 1-3 great ways your kids study at home. E-mail editorial@charlotteparent.com with "Study Skills" in the subject line. Deadline is June 11.
We'll choose some to print in our August back-to-school issue, and you will be entered in a random drawing for fun, educational tools to combat summer slide.