Teacher Talk: Finding Tutoring Help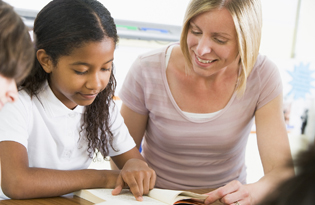 Q Things are going downhill fast in math and science for our son who entered middle school this year. His teachers don't have the time to help him. How do we find a good tutor for our child?
 – Worried
A You say that your son's teachers don't have the time to help him. That could be true for some of his teachers, but others may have before- or after-school tutoring times for groups of students. This should be investigated.
Your son definitely needs an intervention plan to be put in place quickly. He may or may not need a tutor. Perhaps the school can provide sufficient help. Enlist the guidance counselor in setting up a meeting with your child's math and science teachers. Your son should attend. At this meeting, you need to find out what your child's specific problems are. Is he not turning in assignments? Is he doing poorly on quizzes? Is he flunking tests? How is his daily class participation? Can he read and understand the textbooks? After this meeting, you should know the level of help your child needs, exactly how the school can help him and whether or not you need to go the route of finding a tutor.
When looking for a tutor, often the best place to start is with the guidance counselor. The school may also have a list of teachers in the building who tutor, as well as other tutors. The counselor may also be able to recommend a learning center that has produced good results. Another resource for finding a tutor is talking to parents who have used them.
One possibility that parents do not often consider is finding a high school student who is an ace in the subject in which a child needs tutoring. Some high schools even have groups of students who tutor. While these programs often cater primarily to high school students, they might also tutor younger students. Local colleges may also have students who tutor.
We realize that price must be a consideration in choosing a tutor. You must also factor in the tutor's credentials, experience, availability and methods. Have your son be part of the selection process as you need to find someone with whom he can work comfortably. It is generally a good idea to interview more than one prospective tutor.
Q My sixth-grade daughter is a great student, has friends and is involved in choir and tennis. She is, however, a rather quiet, shy child. The teacher recently emailed me saying that she would like my child to participate more in class, especially by raising her hand to answer questions. How can I help my daughter conquer her shyness in the classroom?
– Too Quiet
A Some children are very outgoing – always raising their hands in class and participating eagerly in classroom discussions. Then there are those, like your daughter, who are on the quiet side. Since your daughter has friends and participates in many activities, shyness is obviously not a serious problem for her. By all means, don't label your child as shy or push her to overcome shyness. Doing these things could make shyness a serious problem for her.
There are definitely things that you can do to help your child overcome her shyness. You can praise her when she behaves in an outgoing or friendly manner to others, and you can model more outgoing behavior so she will have a role model for interacting with others.
Of course, you do need to talk to your daughter about the teacher's desire for her to participate more in class. Explain that the teacher is impressed with what a great student your child is and would like her to share her knowledge more with her classmates. You might ask her to make a contribution every day in class. It will be easiest if she does this the first time the teacher asks a question. Then she won't be worrying about when to respond.
Talk with the teacher about strategies to help your daughter, including the one above. She could appoint your daughter as chair of a group and have her read the group's report to the class. Or ask her to read textbook passages in class that answer a specific question.
As your daughter begins to participate more in class, success in nonthreatening situations will enable her to feel more confident to speak up in more challenging ones. She needs to learn how to do this now, as she is likely to run into a teacher who grades very strongly on class participation sometime in the