Tasty Treat: Birthday Profiteroles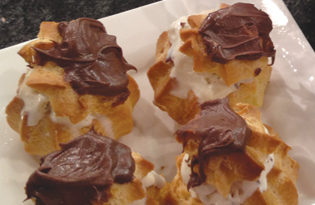 Makes about 12-16 puffs
INGREDIENTS:
1 cup water
1 stick butter
1 cup flour
4 eggs
DIRECTIONS:
1. (Requires adult supervision.) Heat the water and butter in a medium-size saucepan. Bring to a boil just until butter has melted. Take off the heat and pour into a large bowl.
2. Add the flour all at once, stirring to blend until the flour has absorbed all of the liquid. Add eggs 1 at a time, stirring each well until blended. It will take a long time for the eggs to mix in, so stir until the first egg is mixed all the way into the dough, and then add another egg and stir until it is well mixed, and so on.
3. Transfer the pastry to a pastry bag with a wide-open tip. Pipe out small cream puff sized balls onto a parchment paper-lined baking sheet.
4. Bake for 20 to 25 minutes until puffed, firm and slightly browned. Carefully remove the pan from oven and let the puffs cool completely. Use a serrated knife to cut off the top of each puff and scrape out the dough inside. You can fill them with ice cream or whipped cream, re-top them, and then dust them with powdered sugar.

More Birthday Meal Eats and Treats:
> Heidi's Birthday Surprise Sandwiches
> Sparkling Birthday Lemonade