Take an Excursion to the Great Wolf Lodge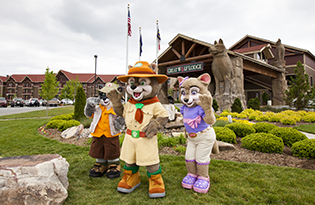 I watched anxiously as the red light turned yellow and then green. My 5-year-old son and I lined up on side-by-side slides next to another mom friend and her son, poised to push off sloshing and sliding down the Mountain Edge Raceway to see who would finish first. As soon as we crossed the finish line, we headed back to the top of the stairs for more. It had been a long while since I'd gone down a waterslide, but one ride down and I felt like a kid all over again.
Great Wolf Lodge is like a cruise ship that never leaves port. Mountain Edge Raceway is just one of the wet-and-wild slides at Great Wolf Lodge Concord. The tandem tube ride down Alberta Falls was another favorite of ours, but the six-story tall Howlin' Tornado was a hit with the bigger kids. There's also a large wave pool and interactive four-story Fort Mackenzie treehouse with twin three-story slides – Totem Towers, Whooping Holler and Club Paw Pool. Racoon Lagoon is open for outdoor water play and includes a zero-depth-entry-to- 4-foot pool with water basketball, floor geysers and spray features.
Safety is a priority. In addition to lifeguards throughout the facility, free life jackets are readily available. If you really want to kick back and relax poolside, reserve a cabana for your family.
Once you've had enough water fun, try out the interactive scavenger hunt, MagiQuest, which sends kids searching for clues in interactive art and treasure boxes throughout the hotel. There's also the kid-size Ten Paw Alley for bowling, Northern Lights arcade and Scoops Kid Spa. A story time or magic show by the clock tower in the main lobby rounds out a full list of dawn-to-dusk activities.
My son and his friend had a blast using the MagiQuest wand to find clues and solve quests. The MagiQuest activities are an additional cost. To play, you must buy a MagiQuest wand for $15.99 plus a $13 activation fee. From there you can add wand toppers (think dragons and fairies) that add "magical" powers and help players advance in the game. Toppers vary, but start at $14. Our boys took turns using the same wand without any trouble. There is also a lot of MagiQuest paraphernalia, including wizard hats and capes, so be prepared for requests for more gear! MagiQuest is recommended for ages 4-12 with adventure hunts reflecting varying levels of difficulty.
Retreating to your room can be fun too. Our room was a KidKamp suite with a Great Wolf Lodge bunk bed room for kids, complete with its own TV. The main room included a queen-size bed and full-size sleeper sofa, plus a refrigerator, microwave, coffee maker, TV, vanity area and small deck. Food choices abound, from pizza and ice cream to a new menu at the Lodge Wood Fired Grill. Great Wolf Lodge can accommodate those with food allergies as well.
Check in is at 3 p.m. and check-out is 11 a.m., but guests can extend their stay by coming as early as 1 p.m. the day of check-in to play or stay, after check-out until the waterpark closes at 8 p.m. Lockers are provided to store a day-pack of dry clothes. Room rates vary, and an overnight stay is required to enjoy the waterpark and other activities.
This summer marks the opening of a new ropes course at Great Wolf Lodge. Satisfy your adventurous side by climbing through obstacles, balancing tightropes and crossing bridges 50 feet off the ground. At around the 40-foot mark, there's find a pulse-pounding "quick jump" that allows brave souls to walk off a platform into thin air and sail down to a landing pad.
Great Wolf Lodge Charlotte/Concord is just off Interstate 85 near Concord Mills. Learn more at greatwolf.com.