Surviving Baby's First Year: A Guide
Navigating the early choices with confidence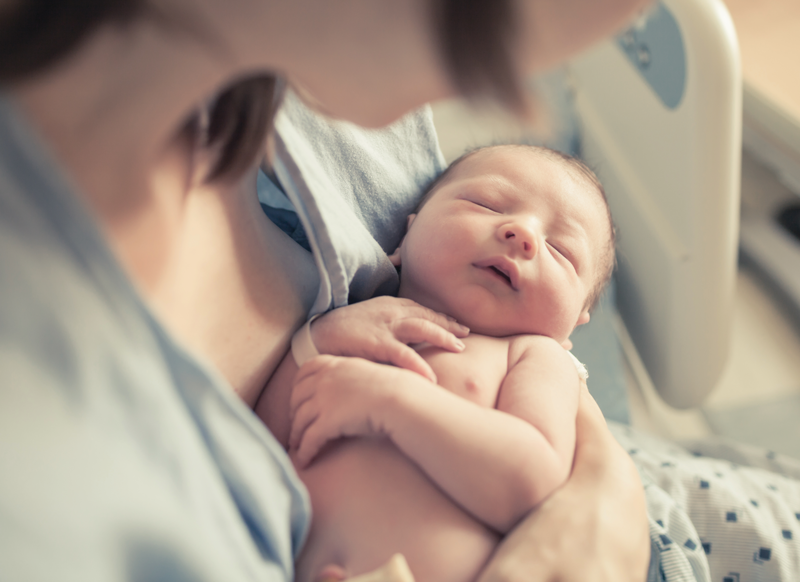 Caring for a child has a lot to do with gathering knowledge, but just as much with trusting your instincts. The choices, however, can be overwhelming and the decision process is often complicated by the views and opinions of others.
"The first few weeks of life is a needy time, it's a confusing time," says Dr. Jeffrey Cleveland, a pediatrician at Atrium Health Levine Children's Charlotte Pediatric Clinic. "A parent's confidence in their ability to take care of their child is critical."
Here's a roundup of the difficult decisions faced by new parents and some input from local experts.
Birth Setting
Caring for the child begins with caring for the mother. Setting is of critical importance to any story, including your birth story. Whatever option you choose, it's important to feel comfortable and protected.
"Pregnancy and childbirth is an incredible life transition with all these variables," says Margaret Buxton, regional director of clinical operations at Baby+Co. and lead midwife at the birth center's Nashville branch. As a passionate advocate of the birth-center model of care, Buxton understands the value of knowledge, preparation and flexibility.
"The environment sends you a message," Buxton says. "If a woman does not feel safe in her birth environment, her cortisol and adrenaline kick in," which can slow down labor. A labor in a birth center may be allowed to progress with minimal interruptions. There are no routine IVs, no inductions and no fetal monitoring unless warranted by the situation. She's quick to point out that the advantages of a hospital include full medical support, an operating room in the event of a Cesarean section, on-site pediatricians, medical technicians and advanced pain-relief options. She stresses, however, that for low-risk pregnancies, often these extra "bells and whistles" go unneeded and may even increase the incidence of a C-section.
While the majority of women choose an OB-GYN for pregnancy care and delivery, in recent years, the number of certified midwives working in hospitals has risen. Like a doctor, midwives are trained health-care providers and are licensed and regulated by the state. A midwife provides a more relational experience, often providing counsel on nutrition, emotional health and other issues before and after the birth. The desire to labor without pain medication or other medical assistance often informs the choice to work with a midwife in the hospital. In a shift toward more personal care, many hospitals offer private rooms, birthing tubs and other amenities, so it's a good idea to tour several hospitals and meet with a variety of doctors before deciding where to have your baby.
Vaccinations
Just as in the old choose-your-own-adventure books, there are dozens of pages to turn as your parenting story begins. Many decisions are personal, but the subject of vaccination is informed by state and local legislation, public school regulations and community opinion. The Center for Disease Control recommends 28 doses of 10 vaccines for children from birth to age 6. Rubella, diphtheria, smallpox, polio and whooping cough have been nearly eradicated in this country through adherence to strict vaccination policies. There is no federal mandate regarding vaccinations, however, North Carolina law requires all children in the state to receive certain immunizations prior to the start of school. Most day cares and preschools also require certain immunizations before admittance. Requirements and more information can be found at immunize.nc.gov.
A contingent of parents choose not to vaccinate based upon religious or personal belief, or medical concern. Many of these concerns stem from a perceived link between vaccines and autism based upon a 1999 study published in the English medical journal Lancet. The journal has since retracted the study. A second study done in 2004 comparing more than 1,200 children on the autism spectrum with 4,469 without autism spectrum disorder found no link between the vaccine and autism. Concern over the additive Thimerosal also colors perception of vaccines, however, this substance is absent in almost all childhood vaccines given since 2001.
"It's socially controversial, but not controversial in the medical community," Cleveland says. "I understand that many parents have questions and doubts, and have done Internet research, but I want parents to understand the science behind it." He cites the most common parent worries as the administration of too many vaccinations at one time overwhelming a baby's immune system or a potential cause of autism. Understanding that it's not a one-size fits all decision, Cleveland works to withhold judgment and strives to understand underlying motivations behind vaccine suspicion and refusal.
"I acknowledge that there are risks to everything, but the risks of not vaccinating far outweigh the risks of vaccinating," he says.
Pediatricians recommend that parents be open about their family medical history and the current health of the child. With good record keeping, it's possible to be aware of weakened immune systems, a history of allergies or other reactions, chronic medical conditions and illness. All of these factors should be considered before deciding to vaccinate. In most cases, the side effects of vaccinations are limited to pain at the site of injection, mild rash, mild fever or temporary swelling.
Circumcision
Religion, culture, identity, ethics and health are all factors in the decision to circumcise. Since 2012, when the American Academy of Pediatrics opined that the health benefits of circumcision outweigh the risks, the number of circumcisions (according to CDC statistics) has dropped in the United States with western states falling to approximately four out of 10 male infants circumcised. Although the AAP and the CDC recommendations seem to hinge on clinical research that links circumcision to a decreased risk for urinary tract infections, penile cancer and sexually transmitted diseases, the actual rates of these conditions are quite small.
Breast or Bottle
At the beginning of a baby's life, the feeding choices are breast or bottle. The AAP, along with the World Health Organization agree that an exclusive breast-milk diet for the first six months, followed by continued breastfeeding with the addition of foods through the first year is best. Breast milk has been found to reduce instances of clinical asthma, atopic dermatitis and eczema. Breastfeeding burns calories and helps mothers lose baby weight. Breast milk is free, available and efficient.
"We believe breastfeeding is the best option for children," Cleveland says. Breastfeeding support and assistance can be found through your pediatrician, doula, midwife or social groups. The hardest part of breastfeeding is the first week or two, Cleveland says, but urges moms not to reach for the bottle.
"Although the nutritional value of formula very closely and increasingly approximates that of breast milk, you simply cannot get maternal antibodies from formula," Cleveland says. "There is also the intimate personal connection between a mom and her baby that happens with breastfeeding. We don't know how to put a value on that, but we do think that's valuable. It's socially and emotionally affirming to both parties, but especially to the babies."
Whether due to lack of support or other difficulty, many mothers find the challenges of breastfeeding outweigh the benefits. Working mothers can find it challenging to pump milk and arrange for storage. Some mothers find breastfeeding painful or difficult, and others may be uncomfortable nursing in public. Statistics seem to back these very real challenges. According to the most recent CDC survey on breastfeeding rates, nearly 85 percent of North Carolinians have breastfed at some point, but the numbers drop to 59 percent at six months and 33 percent at a child's first birthday.
Family Bed or Crib
"In our practice, we encourage and promote independent sleep," Cleveland says. "You want to establish healthy patterns. We know kids and parents sleep better if they are in their own bed after four to six months. Promoting individual sleep is advantageous for both parent and child."
In October of 2016, the American Academy of Pediatrics released "Recommendations for a Safe Infant Sleeping Environment," that acknowledged many parents wind up sleeping with their babies even if they aren't committed co-sleepers. The recommendation places a value on breastfeeding and skin-to-skin contact, while encouraging parents to take safety precautions.
Whether co-sleeping is premeditated or the result of parental exhaustion, Tara Haelle and Emily Willingham, authors of the book "The Informed Parent," recommend parents make bed sharing as low risk as possible by moving beds away from a wall and other furniture. Put the baby to sleep on her back without pillows, blankets or comforters near her or anything covering her head. Understand that smoking, alcohol and illicit drugs increase the risk of danger and Sudden Infant Death Syndrome.
Sleep Training
You might know where your baby is going to sleep, but how do you ensure he or she will fall asleep? Enter sleep training or "crying it out." The latter term, Haell and Willingham note "brings on images of a lonely abandoned infant wailing away in the crib to a background noise of the clink of highball glasses and party noise."
In reality, sleep training is more about establishing a sleep routine. Haell and Willingham's research suggests that kids need "response to emotional needs – those with emotional response from the mother have less sleep disruption." With dozens of books outlining a wide spectrum of approaches to sleep training, the only thing experts agree on is that every child is an individual.
Creating a routine based upon your child's sleep personality may be the most successful strategy. Try for a regular bedtime and stick with the same routine of bath, book and lullaby then bed. The development of calming phrases can also be useful. With some practice, your child will relate these words to sleep. Listen to your child, learn to identify their signals of true distress and offer comfort when it's needed.
Trust Your Instincts
Echoing the philosophy of the conscious-parenting movement, Buxton advises moms and dads to "tune in to themselves and see where they are operating from." Identifying the reasoning behind your choices can assist in navigating what can seem like a blizzard of information. Approach choices presented in your child's first year with curiosity, flexibility and compassion and let those tools guide you throughout your child's life.
Tanya Ward Goodman is the author of the award winning memoir, "Leaving Tinkertown," and the co-founder of Girl Group Enterprises, a social emotional skills series for kids, teens, parents and teachers.