Summery Fruit Chicken Salad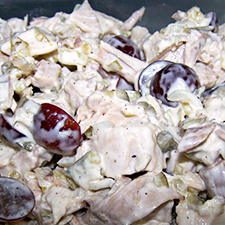 My grandmother used to make this cool and delicious chicken salad for me and my sisters each summer at her beach house. The fresh blend of sweet, cool and creamy always hit the spot after a hot morning on the beach. Today, it's an easy, breezy recipe that my family will enjoy for years to come. 
What You Need: 
• 3 whole chicken breasts (boiled and cooled)
• 1 (15 1/4 oz.) can of pineapple chunks (unsweet)
• 1 medium red apple
• 1 cup of seedless grapes (halved)
• 1/4 cup of mayonnaise (opt for low or reduced fat if you choose)
What You Do:
Chop chicken. Drain pineapples, reserve the juice. Chop apples, dip in pineapple juice. Mix all ingredients well and refrigerate for 2 hours.
Optional: Add more grapes, mayonnaise or nuts.