Summer Snack Attack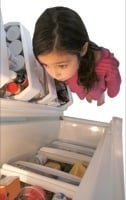 Ah, the good ol' summertime! School's out; the kids play all day; the weather is warm; and tummies are endlessly rumbling. It seems that children are perpetually hungry during this season. Someone is always clamoring, "What's there to eat, Mom?" And if we parents are honest, we'll admit that we, too, suffer from a supreme case of the munchies during this fun time of baseball games, afternoons by the pool and late nights watching the fireflies go by. What's a parent to do?
Well, let's get organized and provide our children with snacking opportunities that are yummy for them, easy on us and healthy for everyone. The following are some tips to help you get your family and your pantry ready for the arrival of summer.
• Seize teachable moments. Take this low-obligation season to educate yourself and your kids about sound principles of nutrition. While some feel that snacking is an unhealthy practice, according to www.mayoclinic.com, a healthy snack can actually help control overeating, provide a needed energy boost and help satisfy little tummies that can't hold large portions of food.
Visit www.mypyramid.gov for some great resources for both parents and kids. There you'll find worksheets, coloring pages and an illustrated poster demonstrating healthy food choices. There's even an online spaceship game for kids that helps them see the value of choosing their foods wisely. Another great USDA-sponsored Web site is located at www.teamnutrition.usda.gov. Download a 40-page activity booklet with nutrition facts, recipes and games — all providing a kid's-eye view of eating right.
• Make water easily accessible. While there has been some debate about how much water one actually needs to drink in a day, there's no doubt that staying hydrated, especially in the summer, is particularly important. Encourage your children to drink water rather than soda or juice. If your family prefers chilled water, store a filled pitcher in the refrigerator. Adding a slice of lemon adds flavor. Keep half-filled water bottles in the freezer. When you're ready for an outing, grab a bottle and top it off. The ice will keep the water cold for a lot longer than if it had been merely chilled in the refrigerator.
• Stock a healthy pantry. If you don't have junk food in the house, it will be easier to avoid eating it. Some great choices to add to your grocery list include fresh fruits and vegetables; low-fat dips; whole-grain breads, cereals, bagels and crackers; sugar-free nut butters and fruit spreads; low-fat string cheese; and low- or non-fat milk and yogurt. Try fruits and vegetables that are new to your family. Jicama and star fruit are crunchy, exotic foods to add to your repertoire.
• Discuss eating in moderation. Many nutritionists recommend three meals and two snacks per day. It's great to provide healthy choices, but that doesn't give us license to graze all day long. There can be too much of a good thing. Talk to your kids about only eating when they're hungry. Sometimes we eat out of boredom and thirst. Talking about these issues with your children in a relaxed way while they are young is a good way to help them avoid unhealthy eating habits in the future.
• Provide a snack shelf. One way to curb the constant barrage of "What's there to eat?" is to designate a place in the cupboard as well as the fridge that holds the allotment of snacks for the day. Once the kids have depleted their supply, they can have a drink of water and wait until mealtime.
• Limit the sweets and fats. Yes, summertime seems to have been made for popsicles, milk shakes and the ringing of the ice cream man's bell. However, the excess fat and calories are not good for you or your kids. Consider healthier alternatives such as fruit juice pops, smoothies or fruit-sweetened frozen desserts, such as Soy Delicious. These should still be limited since fruit juice does not have the fiber that whole fruit does and has been linked to obesity and tooth decay. But, they are a healthier option for satisfying that sweet tooth.
• Balance with physical activity. Make sure that your kids are getting enough exercise. Summer provides plenty of opportunity for this in the form of baseball games, swimming and sports camps. However, it's all too easy to spend the day parked in front of the TV or playing a video game. Draw your family outside when the day cools off. Enjoy a bike ride, game of Frisbee or walk around the block together.
Summertime will pass quickly. Make sure that your family spends it in the healthiest way possible: eating well, exercising and enjoying the season. The good habits you establish will benefit you and your family far after summer fades into fall.
Jessica Fisher is a wife, mother of five and freelance writer living in a suburb of Kansas City. Visit her on the Web at www.fishmama.com.