Summer Books for Kids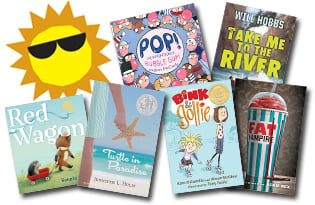 Need suggestions for books to take on vacation or send with your child to camp? Here are some favorite titles, all published within the last year, that are ideal for the season.
Picture Books
Preschool
"Red Wagon" written and illustrated by Renata Liwska (Philomel). When Lucy and friends take her wagon to the market, it's no ordinary errand: the pals imagine sailing on the high seas and crossing the great frontier, among other adventures.
"A Sick Day for Amos McGee" by Philip C. Stead, illustrated by Erin E. Stead (Roaring Brook/Porter). This Caldecott winner follows zookeeper Amos's daily routine with his charges. When Amos stays home sick, his animal friends have the right medicine: a visit to their pal.
Kindergarten-Grade 3
"One Big Rain: Poems for Rainy Days," compiled by Rita Gray, illustrated by Ryan O'Rourke (Charlesbridge). Illustrated with an appropriate palette of grays, blues, and olive greens, this invitingly small anthology of 20 poems quietly celebrates rain.
"Pop! The Invention of Bubble Gum," written and illustrated by Meghan McCarthy (Simon/Wiseman). This light-as-air biography presents Walter Diemer as a likable hero, who introduced bubble gum to the American public in 1928. Trivia about bubble gum continues the fun.
"Madlenka Soccer Star," written and illustrated by Peter Sís (Farrar/Foster). Madlenka challenges a dog, parking meter and trashcan to play soccer before meeting up for a game with a friend, and by extension, children around the world.
Fiction & Nonfiction
Early Readers
"Bink & Gollie," by Kate DiCamillo and Alison McGhee, illustrated by Tony Fucile (Candlewick). Three short stories star two friends who live in a duplex-style treehouse; the couple weathers ups and downs in their friendship.
"Ling & Ting: Not Exactly the Same!" written and illustrated by Grace Lin (Little). Six chapters tell brief, humorous stories about twin sisters. Despite identical outfits, readers will recognize the girls by their unique personalities (and Ting's uneven bangs).
"Time to Sleep, Sheep the Sheep!" written and illustrated by Mo Willems (HarperCollins/Balzer + Bray). Cat the Cat lets her animal friends know bedtime is nigh and helps each prepare for bed, but she's stumped when she happens upon Owl the Owl.
Intermediate
"Sky Sailors: True Stories of the Balloon Era," by David L. Bristow (Farrar). Nine anecdotes relate strange, dangerous, and exciting adventures of the pre-airplane balloon era.
"Turtle in Paradise," by Jennifer L. Holm (Random). In 1935, narrator Turtle is sent to live in Key West. With her stoic nature and quick wits, she's able to fit in with her boy cousins.
"The Fantastic Secret of Owen Jester," by Barbara O'Connor (Farrar/Foster). Owen finds the best salvage ever: a submarine built for two. To figure out how to retrieve and navigate the sub, Owen needs help from his irritating neighbor Viola.
"Project Seahorse (Scientists in the Field)," by Pamela S. Turner, photographed by Scott Tuason (Houghton). A conservation group fights to preserve seahorses, coastal reefs and a community's fishing-based livelihood. Facts about seahorses and underwater photos are interspersed.
Middle School
"Take Me to the River," by Will Hobbs (HarperCollins/Harper). Dylan and Ryan's rafting trip down the Rio Grande becomes unexpectedly dangerous with the additions of a hurricane and a kidnapping.
"The Mermaid's Mirror," by L. K. Madigan (Houghton). Lena secretly (and against her father's wishes) takes surfing lessons in order to investigate a woman with a "glistening silver tail" in a dangerous ocean cove.
"As Easy as Falling Off the Face of the Earth," by Lynne Rae Perkins (Greenwillow). On his way to summer camp, Ry learns the camp's gone out of business. When he hops off the train to call his grandfather, it leaves without him, stranding him in the middle of nowhere.
High School
"Stay," by Deb Caletti (Simon Pulse). Clara and her father rent a summer house on the seashore to escape Clara's possessive stalker ex-boyfriend.
"Fat Vampire: A Never Coming of Age Story," by Adam Rex (HarperCollins/Balzer + Bray). Vampire Doug, destined for eternal tubbiness despite his liquid diet, tries to attract girls with his sense of humor.
– Courtesy of The Horn Book Magazine and The Horn Book Guide, the most distinguished journals in the field of children's and young adult literature. Find a fully searchable database of more than 80,000 reviews or sign up for a monthly e-newsletter for parents at www.hbook.com.