Stylish Stress Relief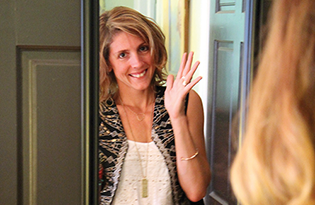 Life can be overwhelming and downright hard at times. Our mile-long lists and never-ending responsibilities do not define who we are, but how we react to the stressful moments affect our overall well-being. Here's how to take the stress off in order to be your best:
Get your sweat on. Exercise is my ultimate go-to. The instant my feet hit the ground for a run, the weight seems to lift from my shoulders. I love a good spin class, a few relaxing moments in the steam room and – the ultimate cure-all – dancing!
Just be. Do things ever seem to pile on at once and you feel like you're going to break? When those overwhelming moments overcome me, the best thing I can do is just be. Focus on the challenge of that moment, hold your composure, be confident in who you are and push through knowing that you are great.
Socialize. When I'm absolutely exhausted from being Mom, combined with juggling a work schedule, activities galore and all the other hats I wear, it is easiest to introvert. Yes, it's rejuvenating, but once I am out of the house, I remember the importance of personal relationships. I have fun, and I'm glad that I made the effort.
Look good, feel good. I feel better about myself when I like what I see in the mirror. Dressing to impress may require a little more time and effort, but people will notice, and once you start getting the compliments, you will too.
Practice self-acceptance. Be honest, patient, kind and accepting of others' differences. Give it your all and be confident in who you are, knowing you gave it your best.
Read more from Whitley Adkins Hamlin at CharlotteParent.com/blogs.