Stunning Homes Just for Kids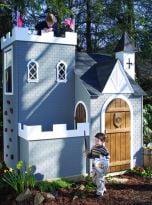 While the real estate market is picking up for grownups there is an entirely new market for kids. Luxury playhouses are here to cater to your child's fantasies and quest for adventure. The Little Tykes plastic playhouses just don't cut it with today's discerning kids. They need something far more elaborate. 
Do your children want a treehouse but you don't have a tree big enough to hold it? This playhouse has the look and feel of a treehouse but bipasses the tree completely. It can even be ordered with the appropriate "no girls allowed" sign reminiscent of the LIttle Rascals. 
If your child dreams of the open seas instead of  being landlocked, this pirate ship playhouse is sure to please. 
Perhaps your son or daughter looks forward to becoming a firefighter? If so, they are sure to love this one!
Finally, for those whose child demands nothing but the best, the mini-mansion playhouse with its huge floorplan and multiple levels is about as grand a playhouse as you can find. 
So – what do you think? Do you like these fancy options in playhouses or would you rather have your child have a more basic one? Please share your comments below.
Barbara Green is the owner of Sensibly Chic Designs for Life and the host of Ask the Design Diva radio show. She believes you CAN have it all: kids, pets, and a beautiful home. Come visit the showroom located at 830 Lamar Avenue in Charlotte or give her a call at 704-608-9424.