Stuffed Greek Chicken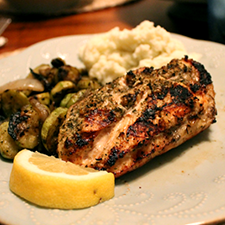 This mouth-watering yet healthy chicken will take you on a mental vacation straight to the Greek Isles. 
Ingredients
1/2 cup (125 mL) crumbled feta cheese
1/4 cup (50 mL) chopped tomatoes
2 chopped garlic cloves
2 green onions, thinly sliced
4 large skinless, boneless chicken breasts
Toothpicks (optional)
1 tsp (5 mL) each All-Purpose Seasoning and garlic salt
1 lemon (optional)
Instructions
1. Oil grill and heat barbecue to medium. Mash cheese with tomatoes and garlic in a bowl. Stir in onions. Working with 1 breast at a time, form a pocket in thickest side by making a horizontal cut about 2 1/2 in. (6 cm) long and 1 1/2 in. (3.5 cm) deep.
2. Gently open and stuff in cheese mixture, pushing as close to centre of breast as possible. Wet inside edges of opening and press down to seal. If you have toothpicks, insert through edge opening to hold together.
3. Lightly oil outside of chicken and generously sprinkle with seasonings. Place chicken on grill. Barbecue, with lid closed, until chicken is cooked through and feels springy, 8 to 10 min per side. Squeeze lemon juice overtop before serving.
> Back to Healthy Recipes