Strum the World's Largest Guitar at Discovery Place Exhibit
Kids can rock out at Discovery Place's latest exhibit.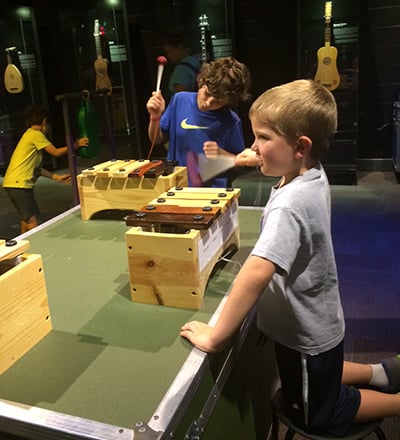 Kids can rock out on stage or sit on top of the world's largest guitar at "Guitar: The Instrument That Rocked the World" exhibit at Discovery Place, open through Sept. 7.
A gallery of rare guitars is mixed in with interactive hands-on activities that let kids of all ages play with the science of sound. What my son and his buddies did first thing, along with many other kids, was run to the stage to "play" an electric guitar and keyboards. Though none of the items they played were actually plugged in and making noise they enjoyed picking up and playing the real instruments.
Kids can also bang out a beat at a station set up with what resembles xylophones made of various wood types. The idea is to compare the sounds different types of wood make; or just play it as hard and as fast as you can, like you're a drummer in a famous rock band, depending on who you are.
The 43-foot long replica of a Gibson Flying V is the world's largest playing guitar, and captivated my group's attention for a minute of "wows" and "look at that guitar" oohs and aahs. It also makes for a great photo.
My group particularly enjoyed testing their musical memory playing different rifts on a fret board via colors on a screen. It reminded me of the game Simon I had when I was a kid. It takes concentration, and gets progressively harder as you go. Challenge yourself, challenge your kids.
For guitar players and enthusiasts, the rare instruments worth checking out, include an Early Fender, Gibson, Ovation, and Martin guitars (from circa 1835 to present); a Ztar Z7S synthesizer guitar with a button for every fret and string; and a PRS Dragon guitar inlayed with 238 pieces of gold, red and green abalone, mother of pearl and woolly mammoth ivory.
The limited-engagement touring exhibit is from the National Guitar Museum, and is located on the top floor of Discovery Place. I recommend letting the kids run out some energy at other exhibits before going to this one, or you may find they don't want to spend as much time as you looking at the rarities.
If you go on a Saturday, enjoy live music at 2 p.m. on the museum patio on the Tryon Street side of the museum. Various local musicians who play different music genres — from Celtic to rock and bluegrass — are scheduled to play in conjunction with the exhibit.