Stripe it Rich!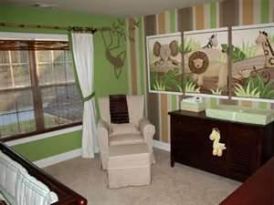 Paint is the easiest and most affordable way to change the look of a room. You can add even more interest to the space with a little painter's tape and some imagination. The favorite nursery on my "AskTheDesignDiva.com" blog has vertical stripes in shades of cream, green, and brown. 
Horizontal stripes are the trendy direction to go. They are very subtle when done in different sheen levels of the same color.
They go a bit more bold when the stripes are made from different colors and widths. 
Ombre or gradiant stripes (right) are popular in fashion and fashion trends eventually end up in our homes, too.
Chevron (left)is another stripe that is showing a lot of prominence, but will be a little more tricky for prepping.

 
The ultimate "stripe-fest" is this free-form, multi-color stripe that really brings this baby nursery (below) to life.
Which is your favorite way to "Stripe it Rich?" I'd love to hear how you've decorated with stripes.
Barbara Green believes you can have it all: kids, pets and a beautiful home. She is the owner of Sensibly Chic Designs for Life and the host of Ask the Design Diva radio show, and insists you don't have to spend a million dollars to look like you did.