Strawberry Avocado Salsa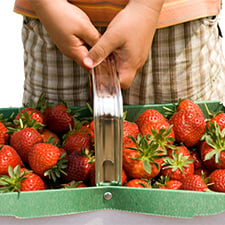 An awesome topping for fish, pork, or chicken, or for a "cleaned up snack" with multigrain chips.
Ingredients:
1 cup chopped strawberries
¼ cup chopped avocado
2 tablespoons chopped red onion
2 tablespoons chopped cilantro
½ teaspoon lime zest
2 tablespoons lime juice
2 teaspoons de-seeded, chopped jalepeno
¼ teaspoon sugar (you can use small squirt of agave instead)
Preparation:
Combine in a bowl gently. Serve immediately.
Measurements are approximate. I usually just dump what I have into the bowl and eat away!