Store-Bought Lemonade: Our Taste Test Results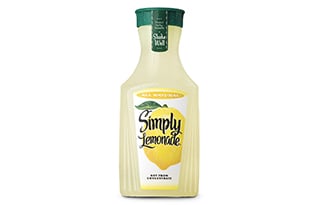 Lemonade That Makes the Grade
Whether your kids are setting up a lemonade stand or you're simply craving that fresh lemony taste, how do you know which lemonade brand to choose? We laid out a blind taste test of five different lemonade brands and put our staff and editors on grading duty. See who came out on top.
---
A: Simply Lemonade
40 cents per 8-ounce cup
"It tastes fresh and I love that it has pulp in it. I would definitely buy this one."
"Sweet and light — not tart!"
"Tastes the closest to fresh-squeezed lemonade at the fair. Far and away the best!"
---
B: Minute Maid Premium Frozen Lemonade
25 cents per 8-ounce cup
"Its not too sweet, it makes you pucker your lips from the tartness. It has a freshly squeezed taste."
"Not too sweet or sour."
"Love it, it's really tart. Color seems most natural."
---
C: Tropicana Premium Lemonade
35 cents per 8-ounce cup
"It tastes real, but very sweet."
"Sweet and fresh."
"Like the freshness of it but it has an aftertaste."
---
D: Country Time Powder Lemonade
13 cents per 8-ounce cup
"Tart and tangy, it looks lime green!"
"Sweet — tastes kind of fake."
---
F: Turkey Hill Lemonade
20 cents per 8-ounce cup
"Is this even lemonade?"
"Watery."
"Way too sweet, not enough lemon."
"Tastes fake — like punch."
"Tastes like cheap powdered mix."