Stir-Fry at Home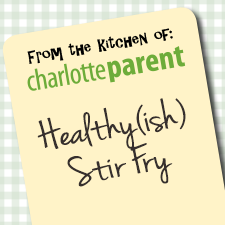 After school, sports, and other assorted chores, spending more than 30 minutes on a meal is not an option. Stir Fry is a good go-to recipe when you need to get something on the table, fast.
It helps to have individually packaged portions of frozen brown rice, farro, barley, whole wheat pasta, or sweet potatoes, ready to serve with the stir-fry. The wonderful diversity of stir-fry comes from the wide variety of ingredients which can be used in a stir-fry. Because of this, it's necessary to basically have an "approach" to stir-fry, rather than try to follow a recipe.
You can create your own stir-fry combinations using what you have on hand, and make it healthier than what you typically get at your favorite take-out place or in the freezer section of the grocery store, not to mention more economical.
Ingredients
Sauce:
¼ cup of reduced sodium soy sauce
¼ cup of water
2 tablespoons Hoisin sauce, orange juice concentrate, honey, or sugar.
2 tablespoons of grated ginger, to your liking
2 cloves of mashed garlic, to your liking
1 ½ teaspoons cornstarch, dissolved into 1 tablespoon of water, then stirred into the sauce.
Peanut oil or other vegetable oil for cooking
Protein: Any type of protein can work in a stir-fry: Scrambled egg, nuts, extra firm tofu, edamame, shrimp, fish, chicken, meat, in pieces or ground, will all work well.
Prepare the protein however necessary: Make thin scrambled egg pancakes and shred finely with a chef's knife, lightly toast nuts in the oven, drain and chop tofu, marinate chicken or meats in a marinade made from soy sauce, pineapple juice, and freshly grated ginger.
Veggies: Stick to two or three different veggies in any given stir-fry. Prep way more veggies than you think are necessary, they always cook down.
Some of my favorite veggie combinations:
• Onions, peppers, and mushrooms
• Fresh mustard greens and shredded carrots
• Eggplant with onions or peppers
• Zucchini and mushrooms
• Broccoli and cauliflower
• Bok Choy, radishes, and green onions
• Napa cabbage, peas and carrots
• Asparagus and snow peas
• Green beans and cashews.
Prepare veggies by peeling and chopping to the desired size, and blanching hard vegetables in lightly salted boiling water just until tender.
Oil: Peanut oil imparts a delicious peanutty flavor, it seems to help prevent sticking better than other oils, and is a healthy monounsaturated fat. If you can't use peanut oil, or are worried about feeding it to an allergic guest by accident, virtually any plant oil will work.
Directions
To make the sauce: Combine soy sauce, water, Hoisin sauce, orange juice concentrate, honey, or sugar, grated ginger, mashed garlic, cornstarch dissolved into 1 T. of water, then stirred into the sauce. Add hot sauce or chili garlic paste, to your liking.
To make the stir-fry: Prepare meat if it needs to marinade. (The longer the better here; overnight would be perfect.) Next, prepare side dish, like brown rice or noodles, or pull out of freezer. Then, prepare veggies. Make sure not to use the same cutting board for raw meat and veggies.
Heat 1 tablespoon of oil (or less) in a wok over medium-high to high heat. Add the protein to the wok, and cook, stirring until it is fully cooked and browned to your liking. Remove the protein from the wok to a plate or bowl, and add 1 tablespoon of oil (or less) to the wok to heat up. Add the veggies. The largest pieces or the hardest veggies should go first, soft veggies and leafy greens next, and peas or fresh herbs should go last. Green onions and fresh herbs are nice to use as a garnish, just before serving, as are crushed, finely chopped nuts.
Add a little liquid – usually water or broth, cover the wok, and reduce the heat to medium-low. This will allow the veggies to steam and cook fully. Usually, two to four minutes is plenty of time. You can leave the lid on longer if you like your veggies soft, just make sure that the liquid doesn't evaporate away and allow the veggies to burn on the bottom.
When the veggies are cooked to your liking, turn the heat up if necessary to bring the liquid to a boil.
Stir the sauce mixture (the cornstarch will have sunk to the bottom) and pour it into the wok. Bring the sauce to a boil, while stirring, to make sure that it has thickened completely and it doesn't taste starchy.
Stir-fry can be a quick, delicious, and healthy meal that can really showcase some fresh, seasonal vegetables from your garden or the Farmer's market.
Megan Lambert is a registered dietician, senior instructor in the International Baking and Pastry Program at Johnson & Wales University, Charlotte, and the co-author of "The Organic Gardener's Cookbook – Easy Growing Tips and Delicious Recipes for Your Home Grown Vegetables."