STEM Studies Grow at Summer Camps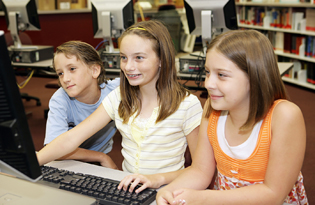 This summer, many kids across North Carolina will be headed to camp. But instead of swimming and tie-dying, some campers will spend their days building rockets, designing video games and learning about animals. With the push for STEM (science, technology, engineering and mathematics) education in schools and the interest in technology among kids and teens, overnight and day academic camps are increasing in popularity.
The focus on STEM areas is evident as early as elementary school. Many teachers incorporate STEM activities into their classrooms, and schools focused entirely on STEM have opened.
"One of the reasons STEM has become important is people have learned it's not just one of the four areas that is important, but that they are interdisciplinary skills," says Robert Panoff, executive director of The Shodor Education Foundation Inc., a national resource for computational science education.
While some parents are just discovering what STEM means, camps focusing on STEM education have been around for years – many associated with local universities. Some camps focus on a specific area of science, such as weather or targeted animal studies, and incorporate math concepts. Other camps integrate all four concepts into the programming, such as a robotics or computer programming camp.
Is a STEM Camp Right for My Child?
While parents and children may think STEM camps are full of highly academic students, camp directors say that isn't necessarily the case.
"Over the years, the typical student has really changed," says Karen Thurm Safran, vice president of marketing and business development for iD Tech Camps, which offers programs at various college campuses, including UNC Chapel Hill. "As technology has become cool, we have gotten a huge variety of students, from gifted students ecstatic to be with other kids like themselves to more artsy kids who like animation or videography."
Chuck Riordan, senior program manager of Camps on Campus at UNC Charlotte, recommends parents select a program their child is interested in, instead of a program that parents want their child to attend. Finding a camp that's a good match for a particular child is what's most important.
Avid video gamers may be drawn to a video game programming class or iPhone application design camp. Students who draw in their spare time may become excited about technology though a Web design program. Or the child whose room is covered with Lego pieces may discover a future in engineering through robotics camp.
What Do Kids Do at STEM Camps?
STEM camp activities are varied and depend on the specific program. Some camps are project-based, where students spend the week learning the skills to develop a project, such as an iPhone application. Other camps include different projects and lessons that help support an overall theme.
Riordan says the camps at UNCC incorporate fun as well as learning. "Academics is the major aspect, but it is still camp," he says. "We want (campers) to learn something without realizing they are learning."
The majority of STEM camps encourage learning through hands-on activities instead of traditional lectures and worksheets.
"When they can see it, hear it and touch it, then it helps create a connection and memory that they can take back into their classroom or daily life," says Tonya Baskerville, co-owner of Rock It Learning, which offers science summer and track-out camps in Raleigh.
There's no need to worry that STEM campers sit in front of a computer or at a desk all day as most camps integrate other activities, including time outside. Many camps take children on field trips related to the topic to give campers a better idea of how the skills will be used in real life. Some camps also include guest speakers.
"We try to use all of the resources available on campus, such as the greenhouse, computer laps and science labs," says Riordan. "Some days, our kids are only in the classroom for an hour."
Safran says: "After lunch, our kids go outside and play flag football or other informal games. We want the kids to get outside and get moving around in addition to learning.
What Are the Benefits of STEM Camps?
Parents sometimes turn to STEM or other academic camps for tutoring or to bridge grades; however, camp directors caution parents against having that as a main focus. While students' grades often improve after camp, in many cases it's because of a renewed passion for learning rather than the specific skills they were taught.
"Students in a nonschool setting can look at the same topics from a completely different point of view and realize that it is something that they enjoy. They then go back to class and become better students," says Panoff.
Leah Tucker of High Point attended UNC Greensboro Division of Continual Learning All-Arts, Sciences and Technology Camp from second grade until she was in high school. Now studying veterinary science at N.C. State University, Tucker says she realized during a camp field trip to a vet school that she may want to work with animals. "The camps piqued my interest more than school because I realized that there were a lot of interesting careers in science," she says. "They inspired me to work harder and learn more."
Campers also enjoy the social benefits of camp and meeting other kids who are interested in the same topic. "Everyone was there because they loved what we were learning about," says Tucker. "It made it easier to get to know them and to bond because you always had something to talk about."
While STEM camps only last for a certain amount of time, many campers find that what they learn about themselves and the world around them stays with them for the rest of their lives.
"At camp, they learn something and they get inspired by learning," says Safran. "And more importantly, they realize that something that they love can be more than just a hobby."
Jennifer Gregory is a freelance writer and mother who lives in the Research Triangle Park.
Questions to Ask
When researching STEM camps, consider asking the following questions:
– What are the counselors' backgrounds? Do they have formal training in the field they are teaching, and are they passionate about the topic?
– How do campers spend their days? Is outside or recess time scheduled?
– Is learning primarily hands-on or structured with lectures and worksheets?
– What technology and materials will campers use? Are there enough available for all students?
– Will there be any follow-up learning for my child after camp is over?
– Will the camp include field trips or guest speakers?
STEM Camps Cultivate Skills That Blossom
Previous iD Tech Camp participants have gone on to:
Write a math app that will be incorporated into a school curriculum.
Start a Web design company – by two 9-year-olds.
Develop an electronic ordering system.
Write iPhone apps and games.